Priced for Crisis, Malaysian Banks Still Too Dear for Top Fund
RHB Capital trades at 0.8 times net assets, lowest since 2003

Country's banks are among biggest losers in Asia this year
At first glance, Malaysian banking stocks may look tempting.
A plunge in their shares has driven valuations to the lowest level since the global financial crisis in 2009. And some funds are considering them again.
For David Ng though, the time to buy is still a long way off.
"There's no catalyst and no upside," said Ng, who oversees about $7.5 billion as the chief investment officer of Affin Hwang Asset Management Bhd. in Kuala Lumpur and whose Affin Hwang PRS Growth Fund has beaten 80 percent of its peers over three years. "Valuations have to be absolutely cheap before we start buying and when we think there is a rebound in the economic cycle. Neither are present right now."
Bad loans are set to increase and banks will post slower earnings growth amid a reluctance to lend as the Malaysian economy slows, said Ng, who pared his holdings of lenders earlier in the year. While a gauge of the nation's financial stocks trades at 1.4 times assets, almost half the level of its 2011 peak, that's still 23 percent more expensive than the MSCI Asia Pacific Finance Index.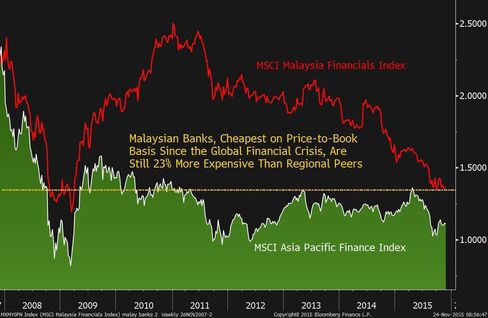 Growth in consumer lending is faltering amid the lowest confidence among the nation's 30 million people since at least 1998 and the highest household debt levels in Southeast Asia. The number of loans approved by Malaysia's banks fell 15 percent in September, according to the central bank. Concern about government finances in the region's only major net oil exporter has also increased as crude prices slump and allegations appeared about irregularities at a state investment company.
A plunging currency and surging foreign outflows are worsening the outlook for the nation's stocks as the Federal Reserve draws closer to raising borrowing costs. In dollar terms, Malaysian financial companies account for three of the five worst performers on MSCI's Asian gauge, with losses of more than 37 percent.
Banking shares are starting to look appealing after the declines, said Kenanga Investors Bhd. Chief Investment Officer Lee Sook Yee. "Because valuations have come down so much, some of the big banks are worth taking a look."
The MSCI Malaysia Financials Index has tumbled 11 percent this year, almost twice the 5.9 percent decline of MSCI's broader Malaysian gauge. The banking measure dropped 0.3 percent at the close on Tuesday.
Hong Leong Financial Group Bhd. and CIMB Group Holdings Bhd. are valued at about the same level as their net assets. RHB Capital Bhd., the nation's fourth-largest bank by assets, trades at 0.8 times book value, the lowest since 2003 and a 36 percent discount to its three-year average of 1.7.
For Affin Hwang's Ng, investors would do better to wait out the turmoil.
"Valuations may be getting cheaper, but they are not absolutely cheap," said. "The outlook for banks will be bad for at least the next six months."
Before it's here, it's on the Bloomberg Terminal.
LEARN MORE