Hungarian Central Bank Buys Bourse to Breathe Life Into Trading
National Bank of Hungary pays $45 million for 68.8% stake

Local capital market `barely breathing,' central banker says
Hungary's central bank is buying a majority stake in the country's bourse, saying it wants to end a drought in share sales and trading volumes and help catch up with Poland, the region's busiest capital market.
The National Bank of Hungary agreed to pay 13.2 billion forint ($45.1 million) for the 68.8 percent combined stake of Austria's CEESEG AG and Oesterreichische Kontrollbank AG in the Budapest Stock Exchange. The transaction will boost the regulator's stake to 75.8 percent, according to a statement on Tuesday.
Trading volumes on the bourse, founded in 1864, declined to $6 billion in 2014 from as high as $34 billion seven years earlier after Prime Minister Viktor Orban raised corporate taxes and seized pension-fund assets to prop up state finances. The government and the central bank plan to restore some luster by selling stakes of state companies and encouraging other companies to follow, National Bank of Hungary Vice President Marton Nagy said.
"Right now our capital markets are barely breathing" and are in need of development, Nagy told reporters in Budapest.
Revival Plan
Rebuilding the trust of investors will be an uphill battle after as much as $24 billion was erased from the nation's equity market following the government's move to take over 3 trillion forint in pension savings in 2011. Trading volumes are a ninth of those in Poland and less than half a percent of the London Stock Exchange.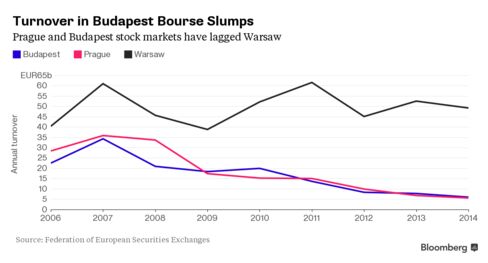 Last year, there were 28 new listings in Warsaw and one in Budapest, according to data compiled by Bloomberg. This month alone, two potential issuers got cold feet after starting the IPO process. Road haulage company Waberer's postponed its listing, citing unfavorable market conditions, while realtor Duna House canceled after learning of a government proposal to limit commissions on house sales.
Hungarian low-cost carrier Wizz Air Holdings Plc, the biggest discount airline in eastern Europe, decided to skip the local market and trade in London instead in February. At almost 1 billion pounds ($1.5 billion), the company's market capitalization would place fourth on the benchmark BUX Index, behind OTP Bank Nyrt., oil producer Mol Nyrt. and drug company Gedeon Richter Nyrt.
Before it's here, it's on the Bloomberg Terminal.
LEARN MORE