Cargill Sees Weaker Cocoa Demand as Prices Rally to 4-Year High
Trader sees 'tiny' deficit of about 20,000 tons in 2015-16

Demand in 2015-16 seen unchanged or rising as much 0.5%
Cocoa prices near a four-year high are hurting demand and helping erode shortages expected this season, according to Cargill Inc., the world's second-largest processor of the beans used to make chocolate.
Global cocoa grindings, an indication of consumption, will probably be unchanged or rise as much as 0.5 percent in the 2015-16 season that started last month, said Martijn Bron, a risk management director at the company's cocoa and chocolate division. That's down from a previous forecast for growth of 1.5 percent to 2 percent.
An El Nino weather pattern threatening to cut production from Ecuador to Indonesia has made cocoa this year's best-performing commodity in the Standard & Poor's GSCI index of 24 raw materials. Prices also rallied as the crop in Ghana, the second-biggest grower, fell short of expectations last season.
"We have become less optimistic on the 2015-16 grind outlook," Bron said Tuesday in a phone interview from Amsterdam. "The world should be happy if there's any grind growth at all this season."
Futures reached 2,317 pounds ($3,490) a metric ton on the ICE Futures Europe exchange in London on Friday. That was the highest since 2011, the year top producer Ivory Coast banned exports during the height of the civil war.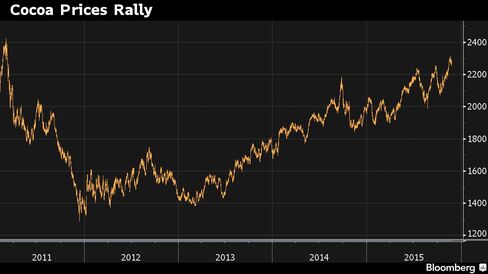 Higher prices are reducing demand and have led to expectations of a smaller global deficit. Cocoa supplies will be below consumption by about "a tiny" 20,000 tons this season, according to Cargill, which ranks behind Barry Callebaut AG for bean processing. That follows a surplus of more than 100,000 tons in 2014-15, according to the trader.
"The chances of a sizable deficit are now very slim," Bron said. "I wouldn't be surprised if we ended up with balanced supply and demand or even a small surplus as current prices are a threat to demand recovery."
Cargill's outlook for the season compares with a shortfall of 150,000 tons estimated by Olam International Ltd., the third-largest processor. In September, before the season started, market estimates varied from a surplus of 92,000 tons to a shortage of 297,000 tons, according to a Bloomberg survey.
Physical Premium
The premium buyers in the physical market are paying over exchange prices has fallen, a sign that there aren't any shortages, according to Bron. Beans from Ivory Coast were 43 pounds a ton more than prices on ICE Futures Europe on Friday, down from 61 pounds on April 10, according to data from KnowledgeCharts, a unit of cocoa researcher Commodities Risk Analysis.
Another sign of ample supplies is the collapse of the spread between the first two cocoa contracts, Bron said. Beans for delivery in December switched to trading at a discount of 4 pounds a ton to March futures after commanding a premium as high as 35 pounds earlier this year. The structure of the cocoa market tends to be inverted, meaning earlier-dated contracts are usually more expensive, because speculators buy the front-months and producing countries hedge by selling the later ones, he said.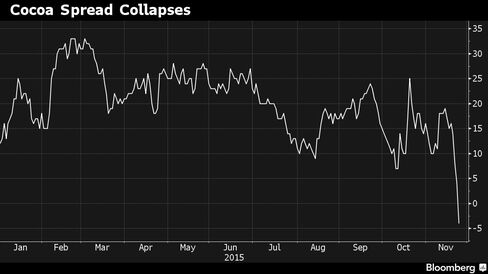 Expensive prices for cocoa products including butter, which accounts for about a fifth of the weight of a chocolate bar, are hurting demand, Bron said. The euro's weakness relative to the British pound also means the cost of buying cocoa in the region has become more expensive, he said. Europe makes up about half of global chocolate consumption.
"Butter prices are at historical highs and that's not helping our customers," Bron said. "The way the market is moving, if futures and products prices stay elevated for a long time, it will eventually lead to further demand rationing."
Cargill, which invested in expanding its cocoa unit in recent years, is optimistic that cocoa processing growth will return to 2 percent to 3 percent in the long term, he said. The company doesn't foresee long-lasting deficits. Cocoa demand is closely correlated with economic growth and will eventually rebound, Bron said.
Before it's here, it's on the Bloomberg Terminal.
LEARN MORE