BAT Rides Coattails of Gilt Demand With Rare 40-Year Bond Offer
Deal is Europe's longest-dated senior corporate bond this year

Fund managers bought almost all bonds after supply shortage
British American Tobacco Plc took advantage of untapped demand for long-maturity securities in pounds with the first 40-year corporate bond in Europe this year.
The maker of Lucky Strike and Pall Mall cigarettes got more than a billion pounds ($1.5 billion) of orders for its 350 million-pound bond on Nov. 18, according to a person familiar with the matter, who is not authorized to speak publicly and asked not to be identified. The U.K. got a record 21.8 billion pounds of orders for a 4.75 billion-pound 50-year bond last month as investors clamored for the debt.
"Long-dated pound bonds have been under-supplied and when the government sold its long bond recently there was great interest there and so investors were looking to add to that," said Neil Wadey, group treasurer at British American Tobacco, in a Nov. 19 telephone interview. "We had a natural funding need and so there's an alignment there."
The tobacco maker, at the center of speculation about a potential offer for rival Imperial Tobacco Group Plc, hasn't sold bonds in pounds since 2013, though earlier this year it sold 30-year corporate notes in euros. More than 85 percent of European bond sales this year have been in the single currency, data compiled by Bloomberg show, as the European Central Bank's stimulus measures drove down the yield of government bonds.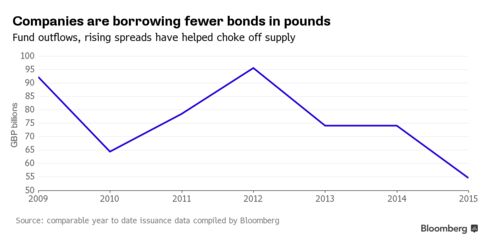 RATES, M&A
BAT's Wadey said the timing of the new bond, which also included a sale of 6.5-year euro notes, wasn't related to expectations of a U.K. rate rise. Instead, the decision was because of the company's financing strategy and funding needs, particularly after recent acquisitions.
"We've done a couple of activities recently, including a buyout of Souza Cruz minority and TDR, so it's a mix of funding the short-term refinancing need for this M&A and looking at where investor demand is."
Fund managers plowed in to the pound-denominated debt, buying 95 percent of the issue, the person familiar with the matter said.
Funds haven't been buying a lot of investment-grade bonds in pounds as rising spreads choked off new supply in the third quarter, JPMorgan & Co. analysts including London-based Matthew Bailey wrote in a client note dated Nov. 12. "Funds are very underweight following six months of outflows and negative total returns."
BAT joined other companies selling long-maturity bonds in pounds last week, including Mondelez International Inc. and Hiscox Ltd, as the yield for investment-grade securities in the currency dropped to about 4.1 percent, the lowest in a month, according to Bank of America Merrill Lynch's 15+ Year Sterling Corporate index.
TIGHTENING YIELD
BAT's notes priced to yield 4.088 percent and have since tightened to yield about 4.052 percent, with the spread over government bonds falling from an initial 157 basis points, data compiled by Bloomberg show. Mondelez's 400 million-pound 20-year bonds offered a spread of 195 basis points when priced while Hiscox's 275 million-pound subordinated 30-year notes paid a spread of about 405 basis points.
"With rates about to rise in the U.S. for the first time in nearly a decade, many company treasurers perhaps view long-dated yields as a good opportunity to borrow for the long term ahead of a rate rise," said Chris Bowie, a money manager at TwentyFour Asset Management in London.
Before it's here, it's on the Bloomberg Terminal.
LEARN MORE