Barclays: Higher Wages Aren't the Thing That's Going to Eat Into Profit Margins
But sluggish sales growth might.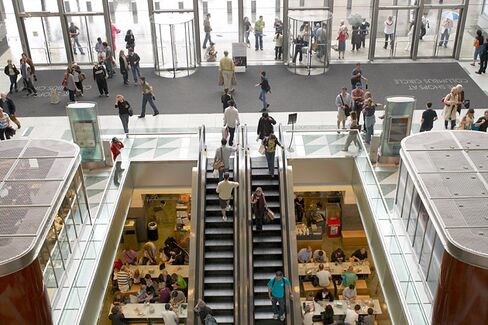 Revised third-quarter U.S. growth figures released on Tuesday showed corporate profits amounting to the lowest share of nominal gross domestic product during this expansion, with labor making up ground as employee compensation rose nearly 5 percent from a year earlier.
This is just the latest data point that squares with what corporate executives, particularly those in the retail space, have been saying: The costs of making payrolls are going up.
Fundstrat's Thomas Lee and BGC's Jared Woodard have each detailed how the prospect for higher wages changed their view on, or served as a key criterion for, distinguishing among consumer discretionary stocks.
But while Barclays Chief U.S. Equity Strategist Jonathan Gilonna acknowledged that this dynamic will serve as a headwind for retail in particular, he doesn't see it as a threat to corporate America's profitability more broadly.
The equity strategy team surveyed Barclays's industry analysts to get a handle on what potential sources of margin pressure were really keeping companies up at night: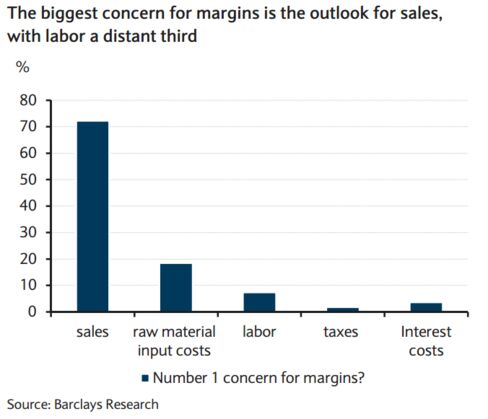 Concerns about sluggish sales growth eventually translating into margin compression are more than reasonable in light of the underwhelming top-line performance of S&P 500 companies. During the third-quarter earnings season, a mere 45 percent of companies have delivered revenue beats, according to Barclays, the lowest share in three years.
"Sales growth for the median company is below the mid-cycle slowdown in 2012 and unusually low for a non-recessionary period," noted Gilonna, citing the rise of the U.S. dollar and coincident decline in oil prices as the largest contributors to the deterioration in top-line performance.
Paradoxically, the outlook for the biggest threat to margins highlighted by Barclays—sales—would improve, in aggregate, if the lesser threat of significantly higher wages were to materialize.
"Investors have expressed concern about tightness in the labor market and its implication for margins for the S&P 500," Gilonna wrote. "Our work suggests these concerns might be misplaced. Rising labor costs rarely cause margins to fall because they are usually offset by higher revenue."
Before it's here, it's on the Bloomberg Terminal.
LEARN MORE