VW's Bad News Drip Continues Two Months After Scandal Started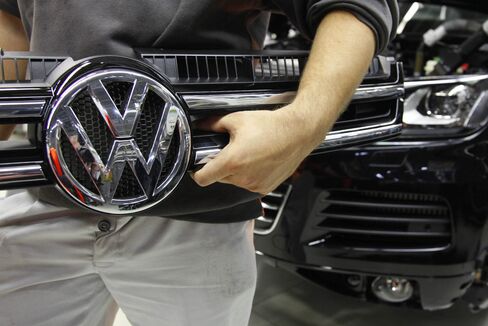 EPA widens probe to older models with larger diesel engines

Volkswagen grapples with fallout from crisis on three fronts
Volkswagen AG's emissions scandal is still widening more than two months after its cheating became public, undercutting the carmaker's argument that only a few rogue engineers knew of the manipulations.
The U.S. Environmental Protection Agency and the California Air Resources Board are now probing Volkswagen, Audi and Porsche models with 3.0-liter diesel engines as far back as the 2009 model year, after initially focusing on newer versions. Volkswagen said it will revise and resubmit software in the engines for regulatory approval, a process it said would cost in the mid-double-digit millions of euros. That's in addition to 6.7 billion euros ($7.1 billion) the carmaker has set aside to fix the smaller cars it admitted in September were rigged to pass emissions tests.
The probe extends the reach of the scandal from VW's headquarters in Wolfsburg, Germany, to Audi, the Bavarian luxury-car unit that also builds engines for Porsche. Volkswagen had initially denied any cheating when first confronted about a smaller number of 3.0-liter Audi-engineered motors earlier this month. On Friday, the carmaker conceded that U.S. regulators considered one feature of the engine-control software to be illegal.
With the latest revelations, "nobody can really say that it simply slipped through," said Stefan Bratzel, director of the Center of Automotive Management at the University of Applied Sciences in Bergisch Gladbach, Germany. "VW has a cultural problem. It's not just about individuals. It's about structures that need to change."
Three Fronts
Volkswagen is facing a scandal on three fronts: the cheating software installed in about 11 million vehicles with 1.2-, 1.6- and 2.0-liter diesel engines; irregular carbon-dioxide ratings on about 800,000 vehicles; and questionable software in 85,000 larger diesel engines targeted in the EPA's latest probe. While Chief Executive Officer Matthias Mueller has vowed a thorough investigation, answers have been slow in coming.
The shares rose 1.3 percent to 109.9 euros in Frankfurt. Volkswagen has lost 34 percent, or 18.4 billion euros ($19.6 billion) in market value, since the cheating scandal became public on Sept. 18.
"The strategy of revealing only a little bit at a time is not what regulators want to see, and it's unsettling for customers," said Holger Schmidt, a Frankfurt-based analyst with Equinet. "At present, they still don't seem to have the situation under control."
Global deliveries at Volkswagen's namesake brand dropped 5.3 percent in October, as the company lost market share in Europe, the U.S. and China. To draw in customers, Volkswagen is responding with incentives, including zero-down payment and zero-percent financing deals in the U.S. In Germany, the carmaker's dealers offered customers an average 11.2 percent off the sticker price in October, 1.6 percentage points more than in the previous month, according to trade publication Autohaus PulsSchlag.
Spending Cuts
With costs from the scandal so far tallying at least 8.7 billion euros, Volkswagen is putting non-essential projects on hold and announced on Friday that it will trim capital expenditures by 7 percent to 12 billion euros ($12.8 billion) next year. While the company halted work on a design center in Germany and a paint shop in Mexico, it left much of biggest investment budget in the auto industry untouched.
The company's supervisory board plans to meet on Dec. 9 to discuss the crisis, including feedback from regulators on proposals to fix cars, people familiar with the matter said. Volkswagen presented California regulators on Friday with a proposal to make its 2.0-liter diesel engines compliant with pollution standards for smog-causing nitrogen oxides. German regulators are reviewing a plan presented Nov. 16 to repair 1.6-liter diesel motors.
Volkswagen rejected the EPA's allegations about rigging the 3.0-liter engine in early November, but said it would work with the regulator to clarify the issue. A high-ranking Audi delegation traveled to the U.S. last week to discuss the issues with regulators, revealing that the software targeted by the EPA, known as an auxiliary emissions control device, was present in older models.
"We already stressed in our statement from Nov. 2 that Volkswagen will fully cooperate with the EPA to clarify the issue thoroughly," the carmaker said Monday in an e-mailed statement. "Exactly that has happened."
Watch Next: The Long Rise and Rapid Fall of Volkswagen
Before it's here, it's on the Bloomberg Terminal.
LEARN MORE