Is Halo 5 Really a Blockbuster? It's Hard to Tell
Trying to get a straight answer about how a video game launch went can be an exercise in futility.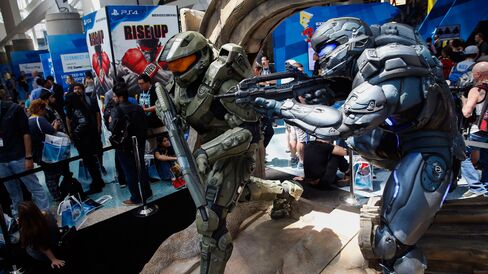 When Microsoft launched Halo 5 in late October, the company claimed that it was the biggest launch yet in the company's biggest video game franchise. A press release trumpeting the game's success included such impressive-sounding achievements as $400 million in global sales and a Guinness World record for "most watched video game launch broadcast." On Monday, the video game retail chain GameStop had a different take. It said the Halo 5 launch had been a disappointment, naming it along with Star Wars: Battlefront and Assassin's Creed Syndicate as the splashy games that had fallen short of expectations so far this fall.
GameStop dominates in-store sales of video games, so it's odd that Microsoft would describe a game as a success at the same time that the chain called it a disappointment. The diverging accounts of Halo's performance are a reminder of the difficulty of determining how well a video game launch actually went. Companies say what forwards their agenda, and not much more.
GameStop declined to give many details about the Halo 5 launch other than to note that there was no evidence that there had been an unusual number of full-game downloads cutting down on in-store sales. This is logical, given that GameStop's main public relations challenge right now is to talk down the impending shift of the gaming industry towards one in which stores that sell discs aren't needed. A Microsoft spokesperson didn't immediately respond to a request for comment on GameStop's statement.
Microsoft put a lot of pressure on itself to deliver a huge success with Halo 5. By reporting $400 million in sales, it succeeds in having a big number in the press. Even that number actually wasn't as big as the $500 million in sales that Activision claimed for the new Call of Duty in its first 72 hours, but it did allow Microsoft to claim that Halo 5 was the biggest Halo launch ever. Halo 3, launched in 2007, grossed $300 million in its first week of sales, and Halo 4 surpassed that level in its first week, although Microsoft never said by how much.
But it's not clear that Microsoft is comparing oranges to oranges in its statements. The most recent figures include not only Halo 5 discs and downloads, but also sales of Xbox One consoles that were bundled with Halo games. Given that the consoles cost over five times as much as the games, this could distort the figures significantly. Microsoft didn't mention console sales for previous launches, and although representatives for the company claim they were included, they declined to break the revenue out in a way that would make the game launches directly comparable.
The information Microsoft did put out suggests that Halo 5's launch wasn't as successful as the headline of its press release. The company said gamers logged 21 million hours of total playing time in the week that Halo 5 went on sale. That compares with the 31.4 million hours Microsoft said users spent playing Halo 4 in the five days after its release and the 40 million hours it claimed players spent with Halo 3 in its first week.
GameStop discussed the Star Wars launch in a bit more detail. An advertisement showing Black Friday discounts for the game leaked online, which executives said may have dampened sales right when the game was released. They also said they expect sales for Star Wars to pick up as the holiday season gets under way and the Star Wars movie is released next month. A spokesman for Electronic Arts, which made the game, declined to comment, and the company hasn't put out any statistics on the launch.
GameStop isn't the only place that sells video games, of course, but it is the one that matters most and, as a result, is a pretty good bellwether for how any one game is doing. For GameStop, the real danger is that this will be less true as people download more games online, rather than buy them in stores. It has done surprisingly well to date with this fundamental threat, in part by nurturing a unique business where it sells digital content in physical stores. But cracks are visible. GameStop's digital business is set to grow about 5 percent this year, after growing more than 30 percent in two of the past three years. Download sales actually shrank faster than hardware sales this quarter, compared with a year before. This is happening at a terrible time for the company: It could be the first holiday season that digital game sales outpace the sale of games on discs.
GameStop executives have said repeatedly that they can weather the shift to a market in which people download games instead of buying them in stores. But it did remind investors of the results of a survey in which only 20 percent of its customers said they'd be willing to download a game such as Halo 5 or Star Wars. The company regularly boasts about its dominating market share in physical video game sales. But Tony Bartel, the company's chief operating officer, declined to give even a broad number when asked on Monday about GameStop's market share in digital. "It's really difficult to find that information," he said.
Before it's here, it's on the Bloomberg Terminal.
LEARN MORE