Ackman's Pershing Square Increases Valeant Stake to 9.9%
Activist hedge fund discloses higher holdings in filing

Valeant shares have fallen amid Philidor controversy
Bill Ackman's fund raised its stake in Valeant Pharmaceuticals International Inc. to 9.9 percent in a series of transactions starting in October, underscoring the activist investor's commitment to the embattled drugmaker.
Pershing Square Capital Management's various funds have now amassed more than 34.1 million shares in the drugmaker, the activist hedge fund disclosed Monday in a regulatory filing. Ackman's firm had previously disclosed a 5.7 percent stake in the drugmaker, as of Sept. 30.
Valeant's shares rose 1.2 percent to $88.46 at 10:18 a.m. in New York.
The stock has been battered as the company faced criticism over price increases on older drugs and a now-terminated relationship with a mail-order pharmacy, Philidor Rx Services, that helped boost insurer reimbursement. Ackman has publicly defended the company throughout, announcing he was buying shares during their descent, hosting a marathon conference call to answer investors' questions and issuing a public vote of confidence to Chief Executive Officer Michael Pearson.
Yet the shares are still down 51 percent since Sept. 30, valuing Pershing Square's stake at $2.98 billion. Pershing Square Holdings, the publicly traded security of the hedge fund, extended annual losses last month to 19 percent, in part because of Valeant's decline.
The shares have rebounded from last week's 2 1/2-year low of $70.32, closing Monday at $87.41. Murali Ganti, a credit analyst at Citigroup Global Markets, said last week that investors' concerns over the company's pricing practices and business model were overdone.
Still, scrutiny of the drugmaker continues. U.S. Representative Elijah Cummings, a Maryland Democrat, wrote Pearson last week requesting he make four former employees available for transcribed interviews in Washington. Republicans haven't backed an earlier request by Cummings to subpoena the drugmaker over its pricing practices, though have said they will hold a hearing on the topic early next year.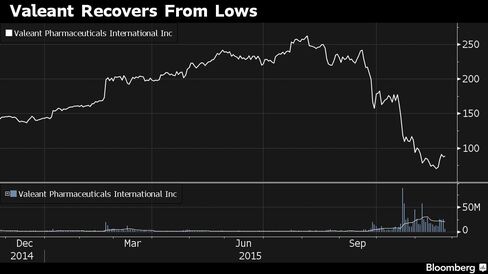 Separately, Quebec's securities regulator is examining whether Valeant breached its obligations to provide information to investors, Louis Morisset, CEO of the authority, said last week. Valeant has its legal domicile in Laval, Quebec, and its principal executive offices in New Jersey.
Pershing Square first disclosed its investment in Valeant in March of this year, according to data compiled by Bloomberg. Ackman's fund teamed up with Valeant last year in a hostile bid for Allergan Inc., which was thwarted when Allergan agreed to be acquired by Actavis Plc.
"This business model is one we believe in," Ackman said on a Nov. 9 conference call, predicting that the stock would continue to be volatile for the time being. "We don't think of that as a permanent phenomenon, we see it as temporary."
Before it's here, it's on the Bloomberg Terminal.
LEARN MORE