Copper Drops With U.S. Stocks While Oil Swings on Saudi Pledge
Metals tumble amid supply concerns, with copper down 2%

S&P 500 slips after best weekly performance of the year
Copper slid to the lowest level since 2009 amid concerns over supply, while U.S. stocks retreating following their best weekly performance of the year. Oil fluctuated after Saudi Arabia said it's ready to work with other producers to stabilize global markets.
Copper fell below $4,500 a metric ton for the first time in six years and nickel touched its lowest price in more than a decade on concern producers aren't doing enough to trim a supply glut. The London Metal Exchange's index of six industrial metals is having its worst year since the global financial crisis. Bloomberg's index of commodities has tumbled about 23 percent in 2015, dragged down to the lowest level since 1999 by slowing demand in China and the stronger dollar. The Standard & Poor's 500 Index lost 0.1 percent.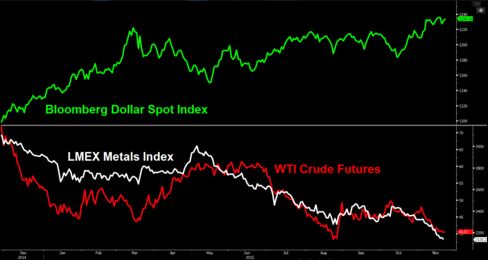 Expectations that the Federal Reserve will soon raise U.S. interest rates have propelled the dollar, making metals more expensive for buyers holding other currencies. At the same time, companies outside the U.S. are seeing a drop in production costs which encourages them to maintain output, according to T-Commodity, a Milan-based consultancy.
"Demand is still the key for commodities at the moment, and supply discipline and production cuts are uncertain," said Helen Lau, an analyst at Argonaut Securities in Hong Kong. "There's a chance that local producers will continue to ramp up production and replace the cuts that have been made."
The S&P 500 slipped to 2,086.59 by 4 p.m. in New York, after the gauge had its biggest weekly jump of the year. West Texas Intermediate crude futures hovered close to $42 a barrel after sliding last week, while European government bonds fell amid a flurry of supply scheduled for this week. The Bloomberg Dollar Spot Index added 0.2 percent.
Commodities
U.S. oil swung between gains and losses throughout the session following a report by the Saudi Press Agency on the scope for cooperation on prices. Futures rebounded from a 3.6 percent drop, only to give up gains as Barclays Plc said that didn't reflect any policy shift by the biggest member of the Organization of Petroleum Exporting Countries, which is due to meet Dec. 4. WTI fell 15 cents to settle at $41.75 a barrel.
"The Saudi statement doesn't signal a policy shift, but there are so many short positions out there, which is making the market very sensitive," Michael Corcelli, chief investment officer of hedge fund Alexander Alternative Capital LLC in Miami, said by phone. "The market is on pins and needles."
Copper for delivery in three months fell 2 percent to settle at $4,490 a ton on the LME, after touching $4,443.50, the lowest level since May 2009. Copper futures also dropped on the Comex in New York. Nickel slid as much as 6.4 percent to $8,175 a ton in London, the lowest level since 2003. Zinc lost as much as 4.3 percent, reversing its advance on Friday after Chinese smelters announced they planned to cut production next year.
Gold futures for February delivery fell 0.9 percent to settle at $1,066.60 an ounce. Assets in exchange-traded products backed by gold have fallen to the lowest since 2009. Money managers are holding a net-short position in the metal for first time since August as their long wagers shrunk to the smallest in seven years.
Stocks
U.S. stocks extended declines in afternoon trading as concerns over terrorism intensified after AFP reported an explosive belt was found in a trash bin in a Paris suburb. The search for a key suspect in the Paris terror attacks kept Brussels in an unprecedented lockdown that has brought business to a standstill.
"The market's taking a breather. It's a combination of a lack of positive reaction in the oil market to help oil rally and concerns a little bit about Brussels," said Matt Maley, an equity strategist at Miller Tabak & Co LLC in New York. "With stuff going on in Europe, people are asking, 'Do I really need to step to the plate after a 3 percent rally last week?"'
The main U.S. equity gauge surged last week after Fed officials signaled the economy is strong enough to withstand the first rate increase since 2006, and investors grew more comfortable with the notion that borrowing costs may soon be boosted. Stocks have gained in seven of the past eight weeks, boosted by raw-material, industrial and technology shares, taking the S&P 500 to within 2 percent of a record set in May.
Tyson Foods Inc. gained 10 percent after boosting its dividend and its profit outlook was better than some analysts expected. Pfizer Inc. fell 2.6 percent after announcing a $160 billion merger with Allergan Plc. The Russell 2000 Index increased 0.4 percent, bolstered by gains in health-care and consumer discretionary shares.
The Stoxx Europe 600 Index fell 0.4 percent Monday, while the MSCI Asia Pacific excluding Japan Index retreated 0.3 percent, with raw materials shares losing 0.7 percent as BHP Billiton Ltd. declined 2.1 percent in Sydney. Japanese markets were closed for a holiday.
Currencies
Russia's ruble weakened 1.7 percent and New Zealand's dollar lost 0.7 percent. A Bloomberg gauge of 20 developing-nation currencies declined for the first time in five days, falling 0.6 percent.
"Emerging markets are under pressure as the U.S. raising interest rates in December is a done deal," said Kenix Lai, a foreign-exchange analyst at Bank of East Asia Ltd. in Hong Kong. "The dollar will get stronger while China's economic fundamentals haven't shown any signs of improvement."
The euro earlier sank to a seven-month low of $1.0601 after European Central Bank chief Mario Draghi said Friday that he and his fellow bank officials "will do what we must" to boost price growth.
Emerging Markets
The MSCI Emerging Markets Index dropped 0.3 percent after the biggest weekly gain in more than a month.
The Hang Seng China Enterprises Index fell for the first time in three days, sliding 0.7 percent. Guotai Junan International Holdings Ltd. tumbled 12 percent after the brokerage said its chairman and chief executive officer can't be contacted.
The Shanghai Composite Index declined 0.6 percent after regulators gave the green light to initial public offerings following a five-month freeze. The China Securities Regulatory Commission has restarted IPOs for five companies to list on the Shanghai stock exchange and five in Shenzhen, according to a statement on its official microblog on Friday.
Bonds
Yields on 10-year Treasuries fell two basis points, or 0.02 percentage point, to 2.24 percent. Two-year yields held close to a five-year high as the U.S. government sold $26 billion of the maturity while speculation mounts that the Fed is poised to raise interest rates.
The likelihood of higher Fed rates by year-end is 72 percent, futures show. That's the highest probability since August and up from 50 percent at the end of October. The calculation is based on the assumption that the effective fed funds rate will average 0.375 percent after the first increase.
Federal Reserve Chair Janet Yellen, responding to a letter calling for higher interest rates on behalf of savers, said Americans would have been worse off had the central bank not kept rates near zero since 2008, and repeated that she expects to tighten policy "gradually" after liftoff.
Government bonds across the euro-area fell at the start of a week of auctions. Yields on Germany's 10-year bund jumped five basis points to 0.53 percent, while Italy's 10-year rose three basis points to 1.52 percent. Belgium started the glut with sales of 2025 and 2028 securities Monday that saw borrowing costs decline from previous auctions.
Before it's here, it's on the Bloomberg Terminal.
LEARN MORE