Former South Korean President Kim Young Sam Dies at 87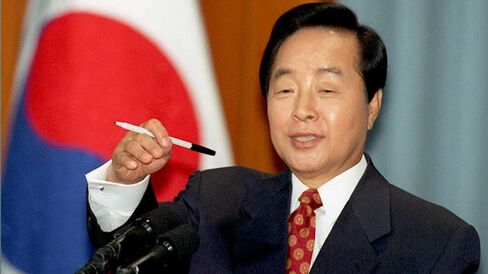 Kim was leader in democratic movement against military junta

Kim said he convinced U.S. not to strike North Korea
Former South Korean President Kim Young Sam, who ended a period of military coups in the country and was forced to seek an international bailout, has died. He was 87.
Kim died Sunday morning from what is believed to be acute heart failure and a blood infection after being hospitalized Nov. 19 for high fever, Oh Byung Hee, chief of Seoul National University Hospital, said at a televised briefing.
Kim led South Koreans in a movement against military dictatorships before he rose to the presidency in 1993. He was succeeded by Nobel Peace Prize laureate Kim Dae Jung in 1998 in the country's first peaceful transfer of power.
Kim Young Sam said after stepping down as president that he had helped convince the U.S. government of Bill Clinton not to attack North Korea's Yongbyon nuclear complex in 1994. Kim said he feared such a strike would provoke a full-scale war.
Former U.S. President Jimmy Carter arranged a meeting between Kim Young Sam and then-North Korean leader Kim Il Sung when he flew to Pyongyang to defuse the crisis that year. Kim Il Sung died just before the summit could take place.
Anti-Corruption Crackdown
Upon taking office, Kim Young Sam launched a sweeping anti-corruption crackdown and disbanded a group of influential military officers. He also had his two predecessors, Chun Doo Hwan and Roh Tae Woo, indicted on treason and mutiny charges for their involvement in a coup and bloody crackdown against anti-government protesters in Gwangju in 1980. Chun and Roh were later pardoned during a national unity campaign.
Kim's popularity nosedived after some of South Korea's biggest companies collapsed during the Asian financial crisis in 1997, prompting the country to seek emergency aid through the International Monetary Fund. During his term he also saw his son arrested on charges of bribery and tax evasion, dealing a blow to his legacy as an anti-corruption fighter.
The government will prepare Kim's funeral with respect and sends its deepest condolences to Kim's family, President Park Geun Hye said in a statement posted on the Blue House's website.
Kim was born on Dec. 20, 1927, on a southeastern island and became a lawmaker in 1954. He was expelled from parliament in 1979 for leading protests against President Park Chung Hee, father of current President Park.
Military security chief Chun took over in a coup after Park Chung Hee died and Kim was placed under house arrest twice under the military junta jointly led by Roh, who became the country's president after Chun.
Kim parted ways with his opposition ally Kim Dae Jung when he joined forces with Roh in 1992 as a stepping stone to his presidency.
(Updates with comment from the presidential office in eighth paragraph.)
Before it's here, it's on the Bloomberg Terminal.
LEARN MORE