RBS CEO Ross McEwan Doesn't Rule Out Taking a Bonus for 2015
McEwan says results will dictate whether he gets a bonus

CEO has declined annual pay awards twice since joining in 2013
Royal Bank of Scotland Group Plc Chief Executive Officer Ross McEwan left it open as to whether he'll take his first bonus since joining Britain's largest taxpayer-owned lender in 2013.
"It's up to the board," McEwan, 58, said in an interview on LBC radio on Friday when asked if he would take a bonus for 2015. "We'll wait and see what the results are against a whole raft of issues, which include customer service, that includes the build-up of capital."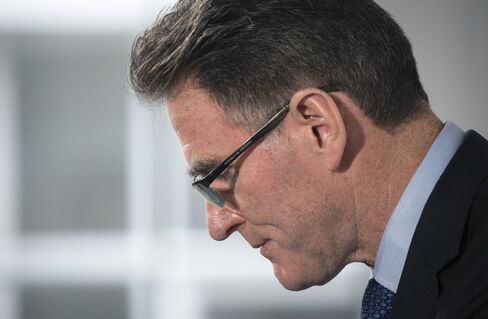 Since becoming CEO, McEwan has waived his right to an annual bonus twice and pledged to give his 1 million-pound ($1.5 million) fixed share allowance for 2015 to charity as he battles to return the Edinburgh-based bank to profit. RBS said on Thursday it plans to scrap bonuses for 20,000 staff at its branches and increase fixed pay in 2016, as the lender seeks to restore its reputation in the wake of a series of scandals.
"The overwhelming support for having them removed has been much greater than the number of people who wanted to hold onto them," McEwan said when asked by LBC Radio host Nick Ferrari "how fair" it was for the CEO to get a bonus while retail staff have theirs eliminated.
For our front line staff, who deal with customers every day, "their job is to look after your needs," McEwan said. "It is not to be incentivized by whether we sell you something."
2015 Bonus

McEwan is the only head of a major British lender not receiving a bonus. The CEO could get a long-term incentive award of as much as 1.6 million pounds for his performance between 2015 and the end of 2017, according to the bank's annual report. The payout will be determined by RBS's common equity Tier 1 capital ratio, profitability, share-price performance and customer satisfaction.
The capital ratio, a measure of financial strength, rose to 16.2 percent following the disposal of its Citizens Financial Group Inc. U.S. consumer bank in October, from 11.2 percent at the start of the year. RBS will probably report a net loss of about 910 million pounds for 2015, analysts at Morgan Stanley led by Chris Manners wrote in a note to clients on Friday. They have an overweight rating on the stock.
McEwan told LBC that the bank would be hurt by a "number of one-off hits" from conduct and litigation charges and restructuring costs "probably through to the end of 2017."
McEwan was also awarded a long-term incentive plan worth as much as 3 million pounds in 2014, which becomes eligible to vest in equal portions in March 2016 and 2017, subject to performance conditions.
Before it's here, it's on the Bloomberg Terminal.
LEARN MORE