Kenya's Central Bank Says Aim Is to Maintain Currency Stability
Market intervention not aimed at strengtening shilling

Central bank doesn't foresee further significant weakening
Kenya's shilling is trading at a "market-determined" rate supported by economic fundamentals, the nation's central bank said on Friday, denying that its dollar sales were intended to prop up the currency.
Periodic intervention by the Central Bank of Kenya was aimed at "ridding the market of volatility" and not at defending the shilling against further depreciation, CBK Spokesman Samson Burgei said in an e-mailed response to questions.
Price swings in the currency of East Africa's biggest economy dropped to the lowest level in more than five months this week after dollar sales by the central bank helped arrest an 11 percent decline this year as a slump in tourism and adverse weather conditions weighed on the economy. The bank doesn't foresee further significant declines in the shilling, Burgei said.
"We have not observed any fundamental changes to warrant the shilling trading at levels significantly different from current levels," Burgei said. "We believe the currency is trading at a market-determined level."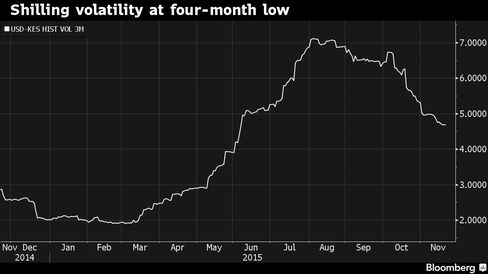 The shilling was little changed at 102.22 versus the dollar by 12 noon in Nairobi, the capital. Three-month historical volatility, which measures price swings in the currency, dropped to 4.7 percent, from as high as 7.11 percent on Aug. 4, according to data compiled by Bloomberg.
The currency may weaken to about 107 in the first quarter of 2016 without CBK intervention, Commercial Bank of Africa said in a note on Wednesday.
With foreign-exchange reserves equal to about 4.3 months of imports, the CBK has "enough leeway to stabilize the foreign-exchange market if required," Burgei said. Kenya had $7.7 billion in reserves in March, up from $6.6 billion a year earlier, according to data compiled by Bloomberg.
Before it's here, it's on the Bloomberg Terminal.
LEARN MORE