Emerging Markets Move Past Fed-Liftoff Angst as Currencies Gain
Goldman Sachs says emerging markets are coming out of doldrums

Real, ruble and rand each advance at least 3% this week
Currencies and stocks across emerging markets staged their biggest rally in six weeks as the Federal Reserve signaled it will raise interest rates gradually, spurring optimism for a tempering in outflows from riskier assets.
A gauge tracking 20 exchange rates in developing countries increased increased 0.8 percent in the five-days through Friday, advancing from the verge of a record low. The MSCI Emerging Markets Index approached its 100-day moving average after climbing 2.7 percent during the week. Malaysia's ringgit rallied 2.1 percent, the fourth-best performance among peers it's mostly trailed this year.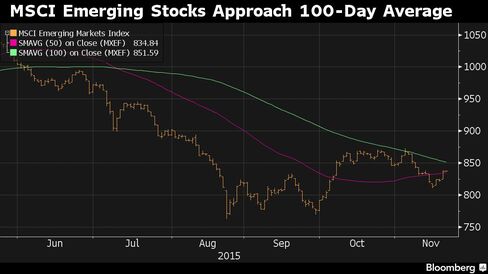 Goldman Sachs Group Inc. predicted emerging markets are about to turn the corner as economic growth accelerates, helping bolster sentiment after Fed meeting minutes released on Wednesday revealed that while "it may well become appropriate" to end almost seven years of near-zero borrowing costs in December, the pace of tightening won't be quick. Higher interest rates reflect confidence in the strength of the U.S. economy, a major export market for emerging nations.
"The Fed comments were seen as comforting in as much as they suggested a gradual pace of tightening," said Tony Hann, the head of equities at Blackfriars Asset Management Ltd. in London. "We see valuations as being supportive but the global macro backdrop will remain soft in to next year in our view. This makes it hard to be too bullish on the asset class as a whole."
The odds for the Fed to start lifting U.S. borrowing costs in December were 68 percent on Friday, up from 32 percent a month ago, according to futures trading data compiled by Bloomberg. The U.S. interest-rate outlook hammered riskier assets this year, pushing the emerging-market stock gauge down 12 percent versus a 0.4 percent drop for the MSCI World Index. Developing-nation stocks have underperformed over the last three years as commodity prices and economic growth slowed.
Among currencies, Brazil's real slumped 28 percent in 2015 against the dollar, followed by drops of at least 17 percent for peers in South Africa, Turkey, Malaysia and Colombia. This week, the Brazilian currency jumped 3.8 percent.
Russia Rapprochement
Russia's ruble halted its four-day rally on Friday, curbing the best weekly advance in six, as investors turned their attention to oil. Aligning political interests in Syria with those of France and the U.S. boosted investor appetite for Russian assets this week, although the price of the nation's main export remains near its six-year low.
As growth picks up and weaker currencies help alleviate economic imbalances, "2016 could be the year EM assets put in a bottom and start to find their feet," Goldman strategists led by Kamakshya Trivedi wrote in a note Thursday. "There is the prospect of improved growth and better returns, even if it is not a rerun of the roaring 2000s."
Even though countries such as Colombia, South Africa, Turkey and Malaysia still need to tackle their current account imbalances, others including Russia, India and Poland have improved enough for their assets to rally, Goldman said.
All 10 industry groups in the MSCI Emerging Markets Index rose Friday, with industrial, health-care and energy stocks leading gains. Hyundai Merchant Marine Co., which has operations in North Korea, soared 26 percent in Seoul after a report that a meeting between North and South Korea has been proposed for Nov. 26.
Valuation Discount
Stocks on the emerging MSCI measure trade at an average 11.3 times 12-month estimated earnings, a 30 percent discount to the MSCI World Index. The premium investors demand to own developing-nation debt over U.S. Treasuries narrowed four basis points to 377, according to JPMorgan Chase & Co. indexes.
The Philippine Stock Exchange Index posted the steepest increase in a month, led by a 3.7 percent gain in Ayala Land Inc. The Hang Seng China Enterprises Index rose 1.1 percent amid speculation that the Chinese government will take more steps to stimulate the economy.
The ringgit appreciated 1.9 percent in two days. The Malaysian currency is the worst performer in Asia this year amid a slide in energy prices that's cut earnings for the region's only major net oil exporter.
Before it's here, it's on the Bloomberg Terminal.
LEARN MORE