Petrobras's Dangerous Debt Math: $24 Billion Owed in 24 Months
The sovereign is weak, too, but investors are counting on it

Petrobras has options in crisis, just not palatable ones
The debt clock is ticking down at Brazil's troubled oil giant, Petrobras. Next up: $24 billion of repayments over 24 months.
That's a towering hurdle for a company that hasn't generated free cash flow for eight years and whose borrowing rates are soaring. Annual debt servicing costs have doubled to 20.3 billion reais ($5.4 billion) in the past three years.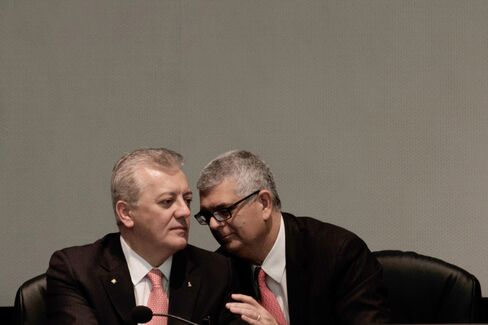 The delicate task of managing the massive $128 billion mound of debt accumulated by Petroleo Brasileiro SA -- 84 percent of it in foreign currencies -- falls to the two banking veterans parachuted atop the company earlier this year, CEO Aldemir Bendine, 51, and Chief Financial Officer Ivan Monteiro, 55. The pair came from the state-controlled Banco de Brasil SA to contain the damage from the biggest corruption scandal in the country's history.
While prosecutors continue to grind away at years of suspicious dealings, Act II for the boys from the Bank of Brazil will further test their mettle. The challenge of Petrobras's runaway debt, which has grown four-fold in five years, has been exacerbated by low oil prices, a weak currency and the Brazilian government's own fiscal travails.
"If you considered them to be totally independent and there were no chance of any kind of government support, I think the risk of default would certainly be there in a big way," said Jason Trujillo, an Atlanta-based fixed-income analyst at Invesco Ltd.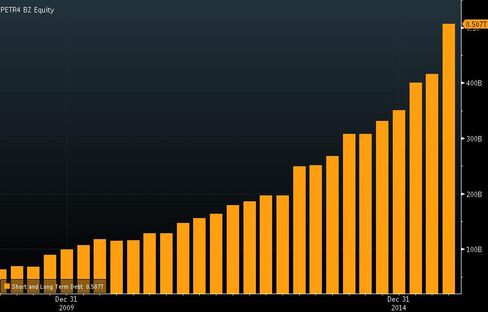 Petrobras is not without options, but they tend to be either politically unpalatable or unattractive to the marketplace. Bendine is actively trying to peddle off minority stakes in the Rio de Janeiro-based oil producer's pipeline and gas station units, among others, but that plan is behind schedule and faces fierce opposition from the oil industry's most powerful union.
Other alternatives are also running up against resistance from one interest group or another. The only source of comfort for many bondholders is the belief the Brazilian government would stop at nothing to save the country's biggest company -- though, even at that, Trujillo said markets are "lessening the amount of implied government support."
Bond Yields Widen
Petrobras dollar bonds due in 2024 yield 10 percent, or 3.7 percentage points more than when they were issued in March 2014 in one of its last major international financing efforts. Citing adverse conditions in capital markets, the company canceled a 3 billion reais bond issue last month after a downgrade to junk status. These widening spreads are increasing the pressure on a management team faced with both rolling over existing debt and financing growth.
"We don't want to sanction the high yields offered by the market," CFO Monteiro told reporters in Rio de Janeiro last week. He added that while "Petrobras doesn't have Harry Potter's magic wand," it is not without "a number of alternatives on the table." A Petrobras press official declined to comment further on the company's debt load and the refinancing options it's considering.
To be sure, Petrobras -- a behemoth that produces 2.8 million barrels of oil and natural gas a day and pulled off the world's largest share sale in its heyday just five years ago -- still has levers to pull.
One source of relief would be for the government to free Petrobras from a policy of fixed gasoline and diesel prices. But that runs the risk of hitting the pocketbooks of a highly agitated populace and of stoking inflation.
The company could also use its clout with state-owned banks to press for favorable terms on new loans. But corporate leverage is already at record highs in Brazil. Moreover, any attempts to pledge assets as collateral would be strongly resisted by existing bondholders.
Back to China?
Alternatively, Petrobras could turn again for financing to China, a major customer for Brazilian commodities, as it did after Bendine's arrival in May through $10 billion in loans from a trio of Chinese banks. If it did, the terms would probably be unfavorable to the oil producer, according to Wilbur Matthews, chief executive officer of San Antonio-based Vaquero Global Investment LP, which invests in emerging-market bonds but is purposely avoiding Petrobras.
Raising new equity and diluting existing shareholders presents another tricky option given that investors are already down 63 percent in the past two years. "There aren't a lot of people lining up right now to figure out how to give Petrobras new money," Matthews said. The stock was little changed in Sao Paulo Thursday, rising 0.3 percent to 7.84 reais.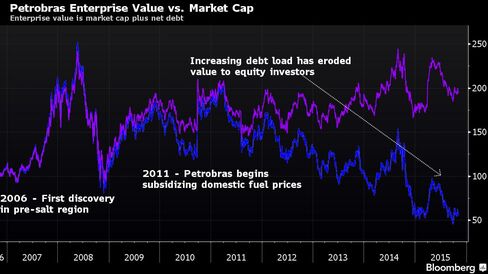 That leaves either some form of government support or Petrobras reversing itself and offering greater foreign access to its crown jewels, the so-called pre-salt -- a massive oil formation 200 miles off the coast of Rio de Janeiro. It was the promise of riches from this deepwater deposit that led the company down its debt-fueled investment path in the first place. Unfortunately, costs ran over, production targets were regularly missed and the price of oil fell, depriving Petrobras of the cash flow to pay back its lenders.
"Risk number one today is liquidity," Nymia Almeida, an analyst with Moody's Investors Service, said by phone from Mexico City. "Plan A -- selling assets to pay down debt -- is not working that fast, and debt maturities are coming."
Joachim Fels, a global economic adviser at Pimco, which holds Petrobras bonds, said it's become "very important" that the government clearly articulate its support for the company. "If investors get the impression that either the sovereign backing isn't there anymore or that the sovereign is willing but not able to step in, then this would have a knock-on effect on the rest of the universe" he said in an interview at Pimco's Rio office.
In a Sept. 10 report, Standard & Poor's said it sees a "very high" likelihood that the government would act to prop up Petrobras if need be. Moody's agrees there's a "high probability of extraordinary support," according to an Oct. 19 report. But Petrobras was unequivocal in the prospectus for its June 2015 dollar-bond sale that "the Brazilian government is not responsible in any manner" for payment of the bonds.
Draining Cash
In the meantime, the debt clock keeps ticking away. In an Oct. 12 research note, Morgan Stanley analysts Bruno Montanari and Madalena Carmona e Costa illustrated how, without extraordinary measures like asset sales, Petrobras could run through all its cash by the end of 2016 -- just halfway through the impending 24-month period of bond maturities.
Even the optimists have trouble putting their finger on reasons for confidence other than Petrobras simply being too big and too embedded in the Brazilian psyche to fail.
"I can't see it getting better in a short period of time, not in the next three to four years," Lucas Brendler, an analyst at Geracao Futuro Corretora in Porto Alegre, Brazil, said. "There's a light at the end of the tunnel, but I can't see this light yet."
Before it's here, it's on the Bloomberg Terminal.
LEARN MORE