Portugal's Silva Meets Parties Before Deciding on Next Premier
President to decide who will govern after Premier Coelho fell

Socialists want to form minority government, ease austerity
Portuguese President Anibal Cavaco Silva is holding meetings with the country's political parties on Friday before announcing a decision on who will be the next prime minister.
Silva first met the Social Democrats, which are led by caretaker Prime Minister Pedro Passos Coelho, followed by the Socialists, who want their leader Antonio Costa to replace Coelho.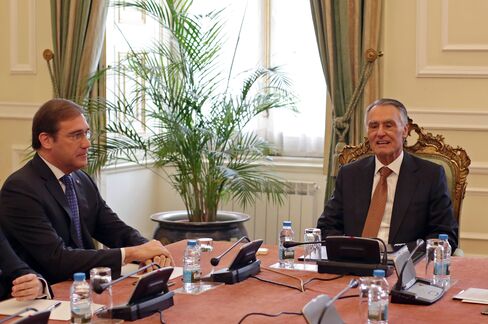 The Socialists joined other opposition parties and formed a majority to block the government's program and oust the premier in a vote in parliament on Nov. 10, five weeks after Coelho's coalition took the most votes in a general election. While the Socialists say they can form a minority government propped up by the three other left-wing parties, it's for the president to decide whom to ask to form an administration.
"It's up to the Socialist Party to build a government solution that corresponds to what it said was essential: to have a stable, lasting and credible majority, which it still doesn't have," Coelho said on Friday after his meeting with the president. "We consider the way the Socialist Party toppled the government in parliament was irresponsible."
The Socialists on Nov. 10 signed separate documents it calls "joint positions" with the Left Bloc, Communists and Greens. Those are the three left-wing parties that would support a minority Socialist Party government, according to Costa, who isn't proposing a coalition government.
"The Socialist Party is guaranteed majority support in parliament," Costa said after meeting the president on Friday. "This is the necessary solution to prevent this situation of uncertainty from dragging on."
Deficit Limit
Portugal's 10-year bond yield was little changed at 2.46 percent on Friday, after rising last week to as much as 2.91 percent, the highest since July. After peaking at 18 percent three years ago at the height of Europe's debt crisis, the yield fell to as low as 1.5 percent in March and was at 2.3 percent just before the Oct. 4 election.
President Silva, who will step down after presidential elections on Jan. 24, could name Socialist leader Costa as premier or he can opt to seek an alternative. He can also let Coelho continue as caretaker. Silva has already held meetings with business groups, labor unions and banks.
The constitution states that parliament can't be dissolved less than six months after it's elected, meaning that early elections could only be called from April 2016. Coelho on Nov. 12 challenged his Socialist opponent to back a review of the constitution and allow early elections.
Socialist leader Costa plans to reverse state salary cuts and bolster family incomes. He says he can do that and keep the budget deficit below the European Union limit of 3 percent of gross domestic product through 2019.
Coelho's government prefers an export-led recovery and planned to ease austerity at a slower pace than the Socialists. He won the most seats in the Oct. 4 election,though his coalition fell short of the majority it held for the past four years as it led Portugal through a financial aid program.
Before it's here, it's on the Bloomberg Terminal.
LEARN MORE