James Slater, U.K. Investor Who Lost, Made Fortune, Dies at 86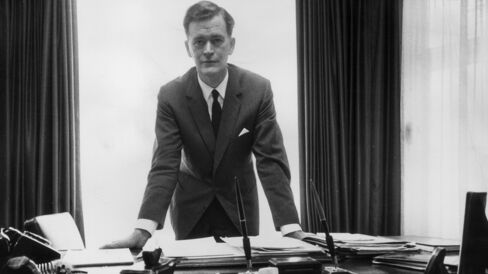 James Slater, the British investment banker who amassed a fortune, lost it, then built another, in part by using a stock-picking strategy that he promoted through his book, "The Zulu Principle," has died. He was 86.
He died suddenly on Nov. 18, according to his website. His death was confirmed by the U.K.'s Telegraph newspaper, where he wrote a column, the last one appearing Nov. 7.
Ranked with the likes of Warren Buffett and Peter Lynch on some lists of great investors, Slater came to prominence as co-head of London-based Slater Walker Securities Ltd. The firm carried out corporate takeovers in the 1960s and early 1970s, selling off unprofitable pieces in a process that became unflatteringly known as "asset-stripping." By 1972, according to a Time magazine report, the eight-year-old firm owned major or controlling interests in 200 companies and had assets of $800 million, while Slater's net worth was about $20 million.
"Never, in my recollection, had any one person or company so dominated the City of London as had Slater Walker in the early 1970s," James Goldsmith, the billionaire who succeeded him as chairman, said in 1988, according to Ivan Fallon's biography of Goldsmith.
An avid chess player, Slater saved from the brink of cancellation the 1972 "match of the century" between American Bobby Fischer and world champion Boris Spassky of the Soviet Union. Slater's pledge of $125,000 to swell the grand prize persuaded the mercurial Fischer to show up in Reykjavik, Iceland, where he prevailed in a two-month match that transfixed a global audience.
Singapore Investigation
"Fischer has said that money is the problem," Slater said, according to the New York Times. "Well, here it is -- my message to Fischer is, 'Come on out, chicken.'"
The collapse of the London stock market in 1973 to 1974 brought Slater Walker down with it. Slater resigned as chairman in 1975, as authorities in Singapore were investigating whether Slater Walker subsidiaries there had priced and dealt securities with the intent of enriching company directors.
Though he prevailed upon British courts not to order his extradition to face conspiracy charges, he said he emerged from the wreckage with debts of 3 million pounds and assets of 2 million pounds, becoming, as news reports called him, a "minus millionaire."
He fought his way back not by building another conglomerate but by speculating in London real estate and writing children's books. The latter activity included the best-selling A.Mazing monster series, illustrated by his son, Christopher.
Childish Humor
"I have a basically childish sense of humor," Slater said, according to a 1980 Times story. "Children don't like being patronized, and my humor is at their level." He added that stock dealing "is a business that comes very easily to me; writing is hard work."
His first book on investing, "The Zulu Principle" published in 1992, urged readers to identify their own areas of expertise and focus their investments there.
"Investment is essentially the arbitrage of ignorance," he wrote.
He said his ideas were rooted in having observed his wife read a four-page article in Reader's Digest on the Zulu ethnic group of southern Africa and realizing that "from that moment onwards she knew more than me about Zulus."
To find stocks worth buying, he advised investors to calculate and compare what he called the price earnings growth factor, derived by dividing a company's price-earnings ratio by its annual growth rate -- "the aim being to find shares which have a PEG of well under one."
New Ventures
Slater's other books included "Investment Made Easy" and "How to Become a Millionaire." In 1993, he helped create "Really Essential Financial Statistics," a subscription stock-picking guide. Starting around 2000, he embarked on a number of new ventures based on market trends he observed.
They included BioProjects International Ltd., which invested in biotechnology and became Vialogy Plc; Galahad Gold, founded in 2003 by Slater and partner Ian Watson, which invested in mining companies in Greenland and Alaska and was liquidated in 2008; and Agrifirma Brazil -- later, Genagro Ltd. -- created by Slater and Watson in 2008 to buy land in Brazil.
"I'm sad Slater Walker didn't work out, but it's part of life's rich pattern," Slater told the Daily Telegraph in 2007. "If something goes wrong, you pick yourself up, dust yourself down and start all over again."
First Passion
James Derrick Slater was born March 13, 1929, in Heswall, northwest England, the only child of Hubert Slater, a sales manager for book publishers, and the former Jessica Barton. When he was 2, the family moved near Wembley in northwest London.
Chess, his first passion, became "too time-consuming" when he took up accounting at 16, he told the Times. He credited his chessboard experience with helping him out think competitors in business.
Following two years of national service in the army, Slater qualified as a chartered accountant at 24 and helped turn around money-losing units of a manufacturing company, the Dohm Group.
After three months, according to his website, Slater became general manager of one of Dohm's main divisions and then spent the following two years reorganizing all the other small industrial companies within the group.
Viral Illness
He then became commercial manager of manufacturer Park Royal Vehicles Ltd. -- which would become part of Leyland Motors Ltd. -- where he contracted a viral illness on a business trip to Spain. During a prolonged convalescence, he read back issues of investment magazines and put his ideas to the test as a columnist for the Sunday Telegraph under the pseudonym "Capitalist."
"During the next two years the ghost portfolio of 'Capitalist' appreciated by 68.9 percent against the market average of 3.6 percent," Slater's website says.
In 1964, he acquired control of property manager H. Lotery & Co. and, with Peter Walker, a Conservative lawmaker in Parliament, turned it into the merchant banker Slater Walker.
Of complaints about the firm's methods of buying companies and selling their assets for profit, Slater told the Independent in 1992: "I don't deny asset-stripping, though the phrase is used as a smear, usually by spineless people who cannot manage their companies. If a firm has its assets stripped it means they have not been properly used."
'Share Prices'
Charles Raw, in a critical 1977 book on Slater Walker, said the larger issue was that the firm's various dealings as bank, company owner and investor were "really about one thing, the manipulation of share prices."
Walker left the firm in 1970 to join the cabinet of Conservative Prime Minister Edward Heath. In 1973, Slater tried and failed to merge his firm with Hill Samuel, a merchant bank and financial services firm.
Slater's survivors include his wife of 50 years, the former Helen Wyndham Goodwyn; their children, Clare, Christopher, Mark and Jenny; and 10 grandchildren, according to his website.
Before it's here, it's on the Bloomberg Terminal.
LEARN MORE