Homebuilding Stocks' Ties to U.S. Housing Starts Broken for Once
Dow Jones index rises in face of 11% decline in October starts

Bespoke finds near-perfect correlation between them since 2007
Shares of U.S. homebuilders may need a rebound in housing starts to sustain their latest gains, if history is any guide.
The chart below tracks the relationship between the Dow Jones U.S. Select Home Construction Index and the annual rate of starts, as compiled monthly by the Commerce Department, since 2005. Bespoke Investment Group LLC provided a similar chart in a blog posting two days ago, before the department's release of October data.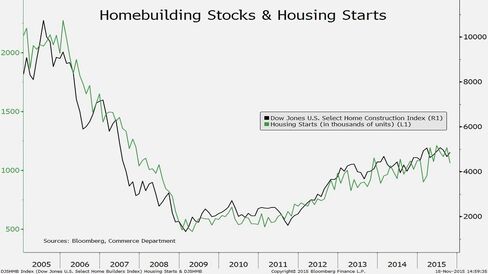 Correlation between an exchange-traded fund that tracks a version of the Dow Jones index and housing-start totals was 0.91 from 2007 through last month, the posting said. The highest possible coefficient is 1, which would show they moved entirely in lockstep.
"It is often said that the stock market looks out ahead six months," the posting from the Harrison, New York-based research firm said. "In the case of homebuilder stocks and housing starts, it seems as though the market doesn't look very far ahead at all."
The Dow Jones industry index rose 1.8 percent yesterday even though October starts fell 11 percent, the biggest decline since February. The drop reflected a 25 percent decrease in work on new apartments and other multifamily homes. Starts of single-family houses slipped 2.4 percent, though they rose in every region except the South.
This year's advance in the homebuilder gauge amounted to 7.6 percent through yesterday. The average monthly rate for starts through October was 10 percent higher than the comparable figure for the first 10 months of last year.
Before it's here, it's on the Bloomberg Terminal.
LEARN MORE