Hemingway's Paris Memoir Flies Off Shelves in Show of Defiance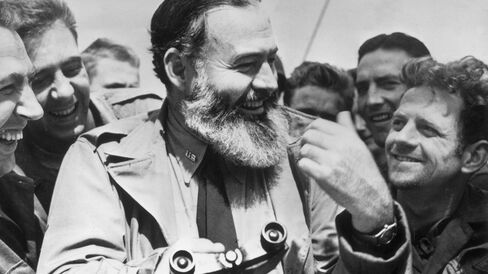 TV interview propels interest in book after terror attacks

Copies of `A Moveable Feast' laid at tribute sites in city
Ernest Hemingway's memoir about the time he spent lounging in cafes and bars in 1920s Paris has become an unlikely totem of defiance against the terrorist attacks that claimed 129 lives in the City of Light last Friday.
Hemingway's ''A Moveable Feast,'' or "Paris est une Fete" in French, is flying off the shelves at bookstores across the French capital and is the fastest-selling biography and foreign-language book at online retailer Amazon.fr. Daily orders of the memoir, first published in 1964, three years after the American author's death, have risen 50-fold to 500 since Monday, according to publisher Folio.
Copies have been laid among the flowers and tributes at the sites of the massacres, and people are reading the book in bars and cafes, Folio spokesman David Ducreux said Thursday. Orders surged after a BFM television interview on Monday with a 77-year-old woman called Danielle, who urged people to read the memoir as she laid flowers for the dead. The video was shared hundreds of times on social media.
French sales of Voltaire's "Traite sur la Tolerance," or "Treatise on Tolerance," also surged after 17 people were killed in January in a rampage by gunmen that started at the Paris offices of the Charlie Hebdo satirical magazine. Folio has sold 100,000 copies since then, according to Ducreux.
Parisians are mobilizing on social media with initiatives such as #tousaubistrot and #jesuisenterrasse, or "everyone to the bistrot" and "I'm on the terrace," calling people to keep going out and enjoying the city's cafes, bars and restaurants.
As Hemingway wrote in his memoir, "we ate well and cheaply and drank well and cheaply and slept well and warm together and loved each other."
---
Paris Attacks: Full Coverage

"We are in a war against jihadist terrorism which is threatening the whole world" President Francois Hollande
---
Before it's here, it's on the Bloomberg Terminal.
LEARN MORE