ECB's Solution to Oil Puzzle May Decide December QE Debate
QE need may depend on whether oil-price drop is demand-driven

Praet says oil-price drop mustn't set inflation expectations
The European Central Bank's decision on whether to inject fresh stimulus into the euro area next month may swing on a judgment over what's causing a slide in oil prices.
Both ECB President Mario Draghi and Executive Board member Peter Praet, the institution's chief economist, have signaled concern that cheaper energy is a warning sign. While tumbling prices have until now been seen as a consequence of oversupply, to the benefit of companies and households, officials are now considering if they increasingly reflect a deteriorating economic outlook.
The analysis is key to studies by Praet's team of economists into whether current record-low interest rates, bank loans and a 1.1 trillion-euro ($1.2 trillion) bond-buying package are enough to revive euro-area inflation and growth. The Governing Council will meet in Frankfurt on Dec. 3 to decide if it needs to act again.
"If the ECB takes the view that it is predominantly a demand-side shock, then the oil-price fall would be less of a positive and not something they would look through," said Ben May, an economist at Oxford Economics Ltd. in London. "While the resulting lower inflation might still boost consumer spending in the short term, it could signal future weaker export demand which could spill over into weaker investment too."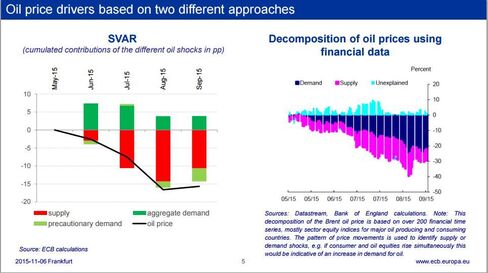 Crude oil has plunged by around half since June 2014, amid speculation that a global glut will be prolonged. The Organization of Petroleum Exporting Countries is continuing to pump above its collective quota, Russian production is at a post-Soviet high, and U.S. stockpiles are running at more than 100 million barrels above the five-year seasonal average.
Yet Praet and Draghi are also signaling concern that slumping prices are telling another story -- of a cooling global economy that threatens to derail the euro area's fragile recovery. The 19-nation currency bloc's gross domestic product expanded just 0.3 percent last quarter, missing analysts' estimates, and consumer prices are stagnating. Inflation in the region, heavily reliant on imports for energy needs, hasn't been near the goal of just under 2 percent in almost three years.
A presentation by Praet at the Governing Council's Oct. 22 meeting said that while weak price pressures "were largely the result of lower oil prices, indirect effects on core inflation were significant in the present environment."
Demand Shock
"In the recent past you had a supply-side issue, which is a windfall for consumers," Praet said in an interview with Bloomberg on Monday. "But now a significant part is also coming from weak global conditions."
After the ECB's Oct. 22 meeting, Draghi told reporters that "recent analysis" suggests the idea that demand conditions made only a minor contribution to falling oil prices may no longer be true.
"To the extent that the investment in oil production had been geared in the past on the basis of projections of demand which turned out later to be less than expected, this is also a demand-induced oil price shock," he said in Malta. That "has different consequences on inflation and inflation expectations than it would if it were a shock which was supply-determined."
Speaking in Frankfurt on Thursday, Praet said that the connection between energy-cost movements and the inflation outlook is a cause of concern for the central bank.
"We have seen, on occasions, longer-term inflation expectations responding to short-term movements in oil prices," he said. "That is unacceptable for a central bank, insofar as it implies that people's expectations of its reaction function have become less certain."
Even so, the discussion over what's driving the fall in oil prices isn't yet settled. The bulk of Brent crude's slide from about $115 a barrel to less than $50 a barrel ended in January, meaning that once the decline drops out of the consumer price index calculations early next year, headline inflation should pick up. Core inflation, which excludes energy and food, was 1.1 percent last month.
Brent traded at $44.47 a barrel at 11 a.m. Frankfurt time. West Texas Intermediate futures were at $40.74 a barrel, near a three-month low.
Global Growth
Chinese President Xi Jinping said this week that his country, the world's second-largest economy, is working to overcome the challenges of slowing global growth by advancing reforms and won't change its policy on foreign investment. The U.S. economy, the world's largest, is seeing levels of wage growth and demand for big-ticket items that may signal its resilience.
Germany's Bundesbank, headed by Governing Council member Jens Weidmann, said in its November monthly report that the global economic slowdown can largely be traced to commodity-exporting nations, and is a reaction to lower prices rather the cause of them.
"The recent decline in oil prices has raised fresh concerns about the health of the global economy; we think that these concerns are overblown," said Brian Davidson, an economist at Capital Economics Ltd. in London, in a note. "Investors think the decline in oil prices has less to do with U.S. economic-growth prospects and more to do with a greater supply."
That said, the Bank of England has suggested that a slowing global economy is playing a greater role in setting energy prices. In its November inflation report, the BOE said one measure shows that "around two thirds of the fall in oil prices over the past six months can be accounted for by demand-related factors, such as concerns about weaker growth in countries such as China."
"If more of the oil price fall is demand driven, then oil is telling you in real time that the world economy is slowing more than you thought," said Michael Michaelides, a fixed-income strategist at Royal Bank of Scotland Group Plc in London. "All else equal, this would mean that hitting the inflation target 2 years down the road will be more difficult, justifying more aggressive action."
Before it's here, it's on the Bloomberg Terminal.
LEARN MORE