Chinese Airlines Lead Most Asia Peers With Ebitda Margin: Chart
China's "Big Three" airlines are outpacing most of their regional competitors on profit margins, as they benefit from government backing and improved reservation systems.
Air China Ltd.'s margin on earnings before interest, taxes, depreciation and amortization, also known as Ebitda, was 23.2 percent on a trailing 12-month basis. China Eastern Airlines Corp. and China Southern Airlines Co. had Ebitda margins of 21.7 percent and 19.2 percent respectively compared with less than 15 percent for most Asian rivals, Bloomberg data show. As the below chart shows, only Japan Airlines Co. could compete on Ebitda, which is typically used to measure operational efficiency.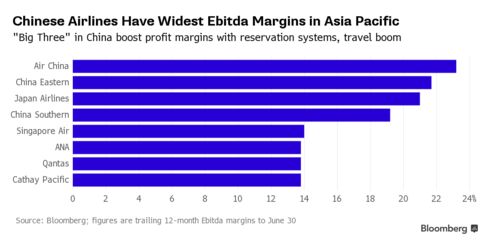 State control has given the three airlines home-field advantage in the years since China eased travel restrictions for citizens, built new airports and approved more routes, said John Mathai, an analyst at Bloomberg Intelligence. The carriers are also circumventing outside travel agencies to cut costs.
"The big three have cut their fixed commission rate for ticket agents to zero and increase their direct sales ratio to 25 to 35 percent," said April Chang, an analyst at Yuanta Securities Co. in Taipei. "This is part of China's broad policy to improve efficiency and profitability at state-owned enterprises."
Among full-service carriers in Asia Pacific, the Big Three are the only companies with double-digit market share as measured by revenue passenger kilometers. In 2009, Hong Kong-based Cathay Pacific Airways Ltd. and Singapore Airlines Ltd. met that industry metric.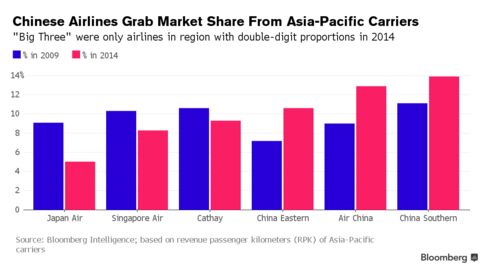 — With assistance by Clement Tan, and Haixing Jin
Before it's here, it's on the Bloomberg Terminal.
LEARN MORE