AIG, Under Pressure From Icahn, Could Sell Units to These Alumni
If American International Group Inc. Chief Executive Officer Peter Hancock accelerates the sale of insurance units, he can start the search for buyers by reaching out to his company's vast network of ambitious alumni, some of whom enjoy the backing of billionaires or private-equity giants.
Hancock told analysts in early November that there are "no sacred cows" at the insurer, a phrase that screams out "asset sales." Activist Carl Icahn is pushing for something more drastic, like splitting the New York-based company into three public insurers, while hedge fund investor John Paulson would support an alternative plan to focus the company by selling units, according to people familiar with his thinking.
"The most expedient thing for Peter, for the company to do really, is to pivot and adopt, in some fashion, a restructuring plan," Josh Stirling, an analyst at Sanford C. Bernstein & Co., said in an interview. "You have lots of people, who used to work at AIG over the past decade or two, who work at competing firms who could be buyers."
Below is a list of some of the ex-AIG managers who know the company's assets best and could be looking for deals: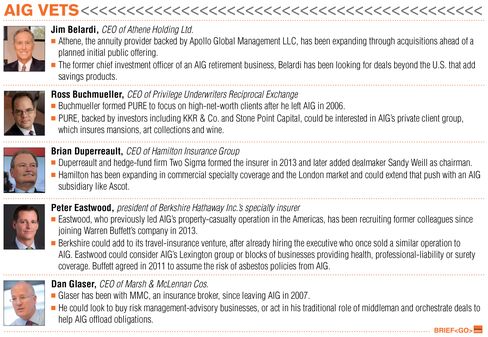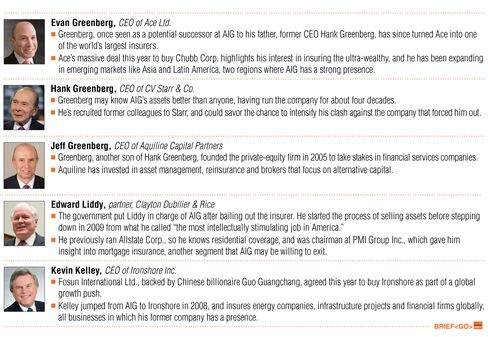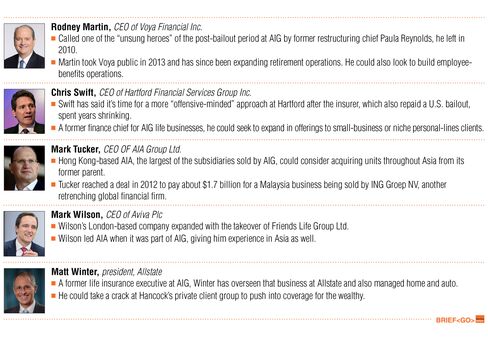 Before it's here, it's on the Bloomberg Terminal.
LEARN MORE