Sløk: Fed-Fueled 'Tourists' Will Determine the Market's Fate
Years of loose monetary policy have encouraged tourists to take a vacation in higher-yielding assets. With a U.S. interest rate hike looming, those flows could soon reverse.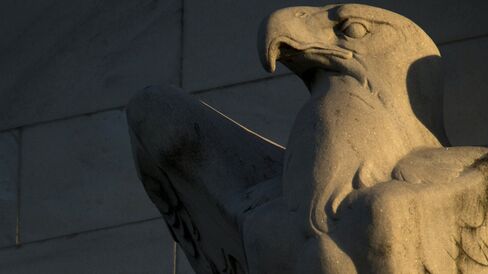 Torsten Sløk, Deutsche Bank's chief international economist, has pointed to one sign that investors might be getting a bit jittery ahead of a potential interest rate hike from the Federal Reserve: soaring sales of American Eagle gold coins.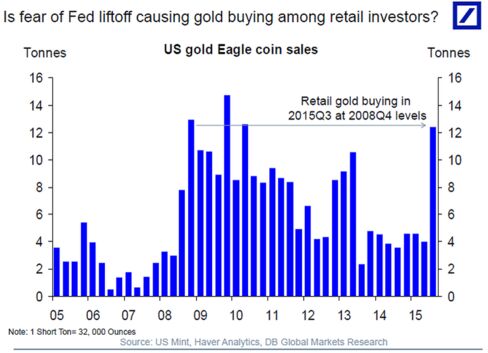 Physical bullion purchases recently reached a level on a par with those in the fourth quarter of 2008, Sløk noted, when the U.S. central bank slashed interest rates to near-zero following the September collapse of Lehman Brothers and the carnage that ensued in financial markets.
This rush into gold speaks to a much broader issue: The tide of monetary stimulus has come in, and it may be about to start going out. How investors react to this, the economist said, is now "the $64,000 question" facing markets.
As the Fed poises to embark upon the process of normalization, the shifts in asset allocation that were driven by the low-interest-rate regime could also reverse. Portfolio rebalancing was a desired result of Fed activity. Investors were forced to step out of their comfort zone or area of expertise, taking on more risk to generate an acceptable return in an environment in which sovereign debt offered an increasingly paltry stream of income.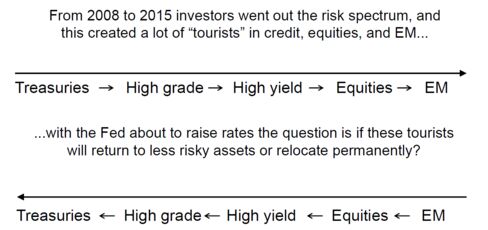 The unwinding of trades associated with these "tourists" who participated in the search for yield is at the heart of the lackluster performance of risk assets, according to Sløk. Whether that dynamic will continue to drive price action is anyone's guess.
"Will risky assets be driven by fundamentals or 'tourists' coming home to safer assets?" the economist wondered. "With the Fed about to raise rates the question is if these tourists will return to less risky assets or relocate permanently."
Sløk thinks fundamentals will carry the day with some bouts of volatility along the way, but he said many of his clients contend that the duration of this low-interest-rate regime has stretched portfolio rebalancing far beyond what was seen during previous cycles. This could prompt price dislocations in the event that investors reorient their portfolios significantly and simultaneously upon liftoff.
In the event that recent patterns of asset allocation undergo reconstructive surgery as the tightening cycle starts, the economist said initial signs of stress would probably surface in fixed-income markets.
"The nearest neighbor to U.S. Treasuries is investment-grade credit," said Sløk. "If those are the nearest neighbors and people went into that asset class not because they were familiar or used to it but simply because U.S. interest rates were so low, then credit and spread product will tend to be more vulnerable as interest rates rise."
That doesn't mean the negative impact would be contained, however. Pain can spread from corporate credit because the same channels by which Federal Reserve policy indirectly supported asset values farther out on the risk spectrum could work in the opposite direction as the central bank tries to "put the toothpaste back in the tube," as Sløk put it.
For instance, the issuance of new corporate debt, for which Wall Street had a larger appetite, thanks in large part to the Fed's accommodative stance, was partially used to repurchase stock, thereby giving a boost to equities. Investors returning to a more attractive risk-free rate would therefore equate to a reduction in the demand for corporate debt and the removal of a source of support for stocks.
"Traditionally, when the Fed raises rates risky assets do well," concluded Sløk. "But zero interest rates for seven years have created a big portfolio reallocation into risky assets, and that flow is now reversing."
Before it's here, it's on the Bloomberg Terminal.
LEARN MORE