Minister for the Possible: Meet the Aussie PM's Right-Hand Man
Sinodinos says need more competition-intensive economy

People need to feel they have a seat at table for change
As Prime Minister Malcolm Turnbull tries to forge new drivers of growth for Australia's economy, his Cabinet Secretary Arthur Sinodinos is the man tasked with turning words into actions.
The 58-year-old Senator's roving brief to help devise, coordinate and execute policy makes him one of the most powerful members of the government and a key adviser to Turnbull. Topping the agenda -- fostering innovation and overhauling the tax system in an economy challenged by waning Chinese resource demand and falling national income.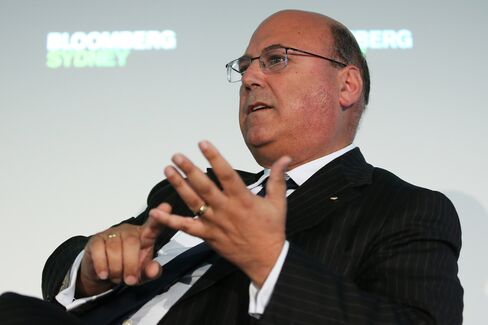 "We need more competitive intensity in the economy," Sinodinos said at the Bloomberg Summit Wednesday, where leaders from business, government and finance explored the challenges facing Australia in 2016 and beyond. "When we look at what we have to do as a country to adjust to this post-mining boom environment, it's about innovation across the board."
Sinodinos is well-placed to help drive the agenda. He was chief of staff to John Howard, the last prime minister to secure lasting economic reform with a goods and services tax in 2000. He was also at the heart of a policy that helped bring down Howard's government -- the sweeping overhaul of the nation's labor market laws, known as Workchoices.
Being Upfront
The lessons he learned? Being upfront with the electorate, explaining the economic case for change, consulting widely and having good negotiating skills to obtain support from minority party senators to pass legislation into law.
While Turnbull's predecessor, Tony Abbott, referred to the Senate as "feral" and an earlier prime minister, Paul Keating, called the chamber "unrepresentative swill," the new leadership is shoring up relations with Senators not aligned to the major parties.
Turnbull "rang them all up, gave them his mobile number, he's meeting with them
regularly," said Sinodinos. "They were elected under the laws of the country, so they are fellow legislators and you treat them accordingly."
The government plans a major statement on innovation next month and is set to respond to a review of competition policy. A widespread debate on changing the taxation system is also underway.
Sinodinos is unperturbed about the prospects of dealing with the upper house and is optimistic at the prospects of being able to legislate a comprehensive reform agenda.
"It is still possible," he said. "The prime minister's message to the electorate is he wants to be open minded, he wants other people to feel they've got a seat at the table, and that I think is a pre-requisite for trying to get people into the tent for major change."
Before it's here, it's on the Bloomberg Terminal.
LEARN MORE