Merkel Defends Decision by Security Services to Cancel Match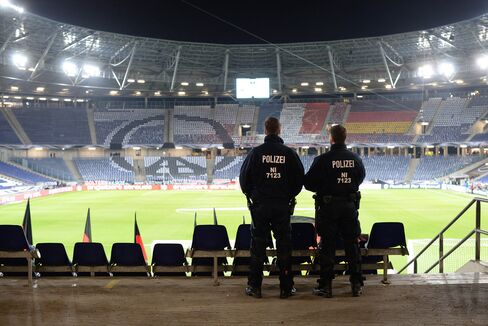 German-Dutch soccer game called off based on foreign sources

German officials say stadium evacuation justified by threat
Chancellor Angela Merkel defended the last-minute decision to cancel a German-Dutch soccer match as top security officials said the game was called off after a bomb scare based on a concrete threat supplied by foreign intelligence.
"I was as sad as the millions of fans that this cancellation had to take place," Merkel told reporters in Berlin on Wednesday. "But the security authorities made a responsible decision, a difficult decision -- perhaps the most difficult decision -- within this tension between freedom and security. But there can be no doubt that it was taken in the name of security."
Merkel, who was due to attend the game in the northern city of Hanover in a gesture of unity after the Paris terror attacks, spoke after overseeing a special meeting of her Cabinet Wednesday morning to discuss the security situation, said a government official familiar with the matter. Authorities said that given the threat level across Germany and Europe, intelligence tips were reason enough to call off Tuesday's exhibition match.
"Starting in the early evening there were concrete indications of a concrete danger," Lower Saxony's prime minister, Stephan Weil, told reporters Wednesday in Hanover. Hans-Georg Maassen, the head of Germany's domestic intelligence agency, told broadcaster ARD that the tip came "through sources and by talking with foreign services but also within the federal government."
As a manhunt was underway in Paris, officials in Germany assessed the impact of the threat on public life after calling off the event 90 minutes before kick off. While no explosives were found and no arrests were made, security officials urged vigilance even as they exhorted Germans to go about their daily lives.
"We are not prepared to fundamentally change our way of life," German Interior Minister Thomas de Maiziere said Tuesday in Hanover. He had flown in with Merkel just as the game was being canceled. The chancellor flew back to Berlin shortly after arrival.
As soccer fans filed out of the 49,000-capacity stadium in Hanover and beer and sausage vendors were told to shut down, the jittery state capital faced another threat after a suspicious bag was found on a train at the station. State Interior Minister Boris Pistorius said no explosive substance was identified.
"In recent days we got a full range of tips of course and as security agencies we are then required to review each and every tip and to check the quality," Maassen, head of the Federal Office for the Protection of the Constitution, told ARD public television.
Before it's here, it's on the Bloomberg Terminal.
LEARN MORE