Kenya Shilling Seen Extending Decline as Price Swings Narrow
Central Bank intervention sustaining narrow trading range

Economic fundamentals not in favor of currency strength
Kenya's shilling is poised to extend declines after price swings in the currency dropped to the lowest level in more than five years as the nation's central bank intervened in the market, according to traders including Joshua Anene at Commercial Bank of Africa.
The shilling's three-month historical volatility fell to 4.7 percent on Wednesday, the lowest since June 5, according to data compiled by Bloomberg. The currency's stability may be short-lived as the East African nation's economic outlook deteriorates and short-term interest rates fall, Anene said by phone from the capital, Nairobi, on Wednesday. The Central Bank of Kenya has sold dollars in the market to keep the shilling within a range around 102 per dollar, he said.
"What's holding the shilling is the CBK intervention, without which it will weaken," Anene said. "The shilling has lost its biggest support, which was the lofty yields the market was enjoying in the short term on government securities."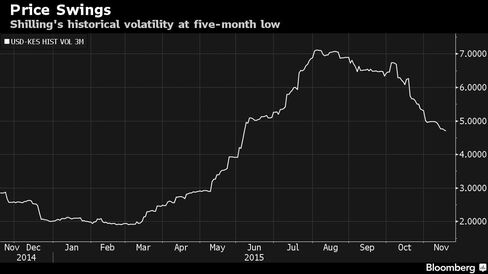 The shilling weakened less than 0.1 percent to 102.2 by 1:33 p.m. in Nairobi, bringing its decline against the dollar this year to 11.4 percent. The currency also faces external headwinds from the anticipated lift-off in U.S interest rates next month, Kenneth Minjire, an analyst at Genghis Capital Ltd., said by phone. The CBK did not respond to e-mailed questions.
"We have seen the CBK come in whenever the currency touches 102.5 against the dollar, but the measures they are employing are not long-term," Minjire said. "Defending the currency is not sustainable. The shilling faces more pressure going into 2016 because of a lot of fundamental issues and pressure from external factors."
Dollar inflows are fizzling out after yields on 91-day Treasury bills fell to a four-month low of 9.65%, from as high as 22 percent. Foreign-exchange earnings from tourism are still "feeble" following a spate of attacks by al-Shabaab, an affiliate of al-Qaeda, with no respite in sight as terrorist violence in Paris fuel a "perception of insecurity everywhere, not only in Europe," Anene said.
The shilling may fall to 107 per dollar in the first quarter of 2016 as the nation's budget deficit widens, he said.
Before it's here, it's on the Bloomberg Terminal.
LEARN MORE