Japan's Topix Closes Little Changed, Paring Advance as Yen Gains
Air France Flights bound For Paris diverted on bomb scare

Tohoku Electric tumbles on plans to sell convertible bonds
Japanese stocks closed little changed, trimming gains in the afternoon session as the yen rose against the dollar. Consumer lenders led the advance while insurers fell.
The Topix index closed at 1,586.53, paring an increase of as much as 0.8 percent, as five shares fell for every four that rose. The Nikkei 225 Stock Average climbed 0.1 percent to 19,649.18 after adding as much as 1.1 percent. The yen rose 0.2 percent to 123.25 per dollar as two Air France flights bound for Paris from the U.S. were diverted because of a bomb scare and shots were fired in a northern Paris suburb in an ongoing French police operation related to the terrorist attacks.
"The Nikkei 225 was beginning to pare gains with investors getting nervous around the 20,000 yen level, when news of the bomb threat broke," said Hideyuki Suzuki, general manager of investment-market research at SBI Securities Co. said by phone.
Acom Co. added 2.4 percent to lead an advance among consumer lenders. MS&AD Insurance Group Holdings Inc. and Tokio Marine Holdings Inc. sank at least 2.2 percent after earnings releases by the non-life insurers disappointed investors. Tohoku Electric Power Co. tumbled 7.5 percent after selling 120 billion yen ($974 million) of convertible bonds.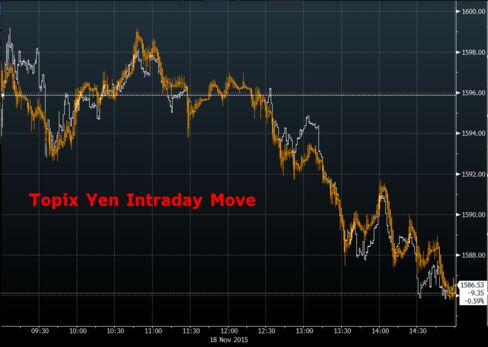 There were bomb scares on flights from Washington and from Los Angeles, Air France-KLM Group said Wednesday. Both flights were diverted as precautionary measures and to conduct all necessary security checks, the airline said.
Japanese shares continued to pare gains following reports of shots being fired in Paris. A raid is being carried out at an address in the Saint-Denis Basilique district, the police said. Two people have been killed in the operation, French newspaper Le Monde reported. The raid is aimed at an armed group cornered in an apartment, AFP said.
The yen traded at 123.25 per dollar after weakening 0.2 percent on Tuesday. E-mini futures on the Standard & Poor's 500 Index dropped 0.1 percent after the underlying gauge slipped 0.1 percent on Tuesday, erasing an earlier gain of as much as 0.7 percent.
BOJ Policy Meeting
The BOJ began a two-day meeting Wednesday, with all 41 economists surveyed by Bloomberg News predicting no change to already record Japanese stimulus despite a report Monday showing Asia's second-biggest economy has slipped back into recession. The result is in contrast to last month's survey, when 44 percent of economists said the BOJ would add to easing on Oct. 30.
"There are expectations for supportive policies within Japan," Chihiro Ohta, general manager of investment information at SMBC Nikko Securities Inc. in Tokyo, said by phone. "We have the Bank of Japan meetings today and tomorrow and I think the consensus is that they won't make any changes this time."
The Topix Other Financing Business Index rose 0.9 percent for the biggest increase among the 33 industry groups on the broader gauge. Acom added 2.4 percent, while Orix Corp. rose 1.3 percent.
Insurers fell 1.6 percent for the largest decline. MS&AD Insurance lost 2.3 percent after posting a drop in first-half profit. Net income for the six months ended Sept. 30 fell 22 percent to 86 billion yen, missing analyst estimates for 117.2 billion yen.
Tokio Marine slumped 2.2 percent after cutting its full-year profit target following a 40 percent year-on-year decline in first-half profit.
Tohoku Electric tumbled 7.5 percent, the most since June 2013. The convertible bonds may dilute existing shares by as much as 12 percent, the company said in filings on Tuesday.
Before it's here, it's on the Bloomberg Terminal.
LEARN MORE