Jonah Lomu, Rampaging Wing Who Transformed Rugby, Dies at 40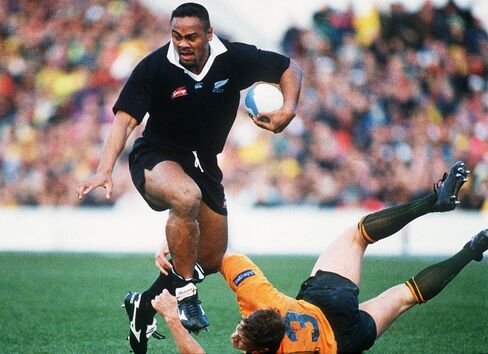 Tributes flow from around the world after sudden death

A ``freight train in ballet shoes'' at the 1995 World Cup
Jonah Lomu, the New Zealand rugby player whose World Cup try-scoring feats helped promote the game to a global audience, has died at the age of 40.
Lomu, who played 73 times for the All Blacks and scored 43 tries in a career stretching from 1994 to 2002, died unexpectedly in Auckland Wednesday, New Zealand Rugby said in a statement. His career was cut short by kidney disease.
"We are all shocked and deeply saddened at the sudden death of Jonah Lomu," New Zealand Rugby Chief Executive Officer Steve Tew said. "We're lost for words and our heartfelt sympathies go out to Jonah's family. Jonah was a legend of the game and loved by his many fans both here and around the world."
Lomu's performances at the 1995 and 1999 World Cups raised rugby union's profile beyond its traditional markets, making him its most-recognized athlete and a magnet for corporate sponsorships, including with Adidas AG. In 2007, Lomu was voted the most influential player in tournament history and was inducted into the sport's Hall of Fame four years later. His 15 World Cup tries remain a record, equaled by South Africa's Bryan Habana at this year's tournament.
Pace, Power
Lomu memorably scored four tries against England in the 1995 Rugby World Cup semi-final in Cape Town. For one of them, he literally ran over Mike Catt in an enduring image of pace and power.
"A freight train in ballet shoes," author and former Australian rugby player Peter FitzSimons described him as at the time.
Professional Era
The performance is said to have helped persuade Rupert Murdoch to buy the television rights to southern hemisphere rugby that year. The $550 million deal between News Corp. and Australian, New Zealand and South African rugby administrators heralded the sport's switch to professionalism.
At 6-foot-5 and 265 pounds (120 kilograms), Lomu combined the size and power of a forward with the speed he needed to play on the wing. In peak physical condition, he could run 100 meters (109 yards) in less than 11 seconds, according to the New Zealand Rugby Museum.
Lomu was in London for last month's World Cup, which was won by the All Blacks. He posted pictures of a visit to Dubai on Nov. 14 on his Facebook page, and was photographed returning to Auckland airport yesterday.
His playing career was curtailed by nephrotic syndrome, a degenerative kidney disorder, for which he required a kidney transplant in 2004. The organ stopped working in October 2011, Lomu said in a February 2012 interview with New Zealand Woman's Weekly magazine. The kidney failure left him needing dialysis treatment for 21 hours a week and made him highly susceptible to infections, he said.
Unexpected Death
Former All Black doctor John Mayhew said Lomu's death was unexpected because he had been in good shape in recent months. It was probably related to his kidney failure, which can cause heart and lung problems, he told Radio New Zealand after leaving Lomu's Auckland home today.
New Zealand Prime Minister John Key joined Lomu's former teammates and opponents from around the world in expressing their condolences.
"Jonah Lomu was an inspirational athlete who was generally regarded as the first true global superstar of rugby union," Key said in a statement. "He was the rare combination of size, speed and power, and was a game changer whenever he stepped onto the field."
Jonah Tali Lomu was born on May 12, 1975, to Tongan parents in Auckland, according to the All Blacks website. He grew up in a working-class area and credited the discipline and focus of playing rugby with keeping him out of trouble.
In 1994, he became the youngest All Blacks Test player when he made his debut against France at age 19. He remained in national squads until playing his 63rd and final Test against Wales in 2002 at age 27.
Lomu and his third wife, Nadene, had two sons, Brayley, born in 2009, and Dhyreille, born in 2010.
Before it's here, it's on the Bloomberg Terminal.
LEARN MORE