Christie Says John Kerry Needs to 'Get Some Sleep and Shut Up'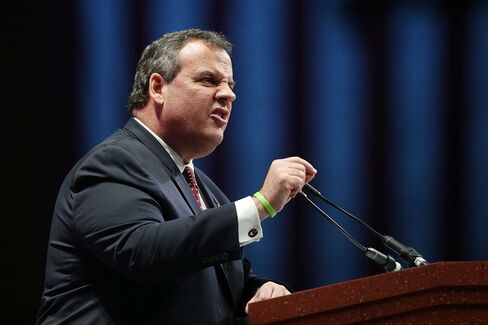 Republican presidential candidate Chris Christie said John Kerry needs to "get some sleep and shut up" after the U.S. secretary of state said there was a "rationale" for the January attacks at French newspaper Charlie Hebdo.
Kerry, at the U.S. Embassy in Paris on Tuesday, said last week's terror attacks in the city were "absolutely indiscriminate," unlike the assault on the staff of the satirical publication, which had frequently lampooned Islam.
"These are the kind of weak, mixed signals that this administration sends that helps to really, you know, make the American people think that there's no one watching the store, and there isn't," Christie said Wednesday in an interview on Fox News.
The New Jersey governor said President Barack Obama's focus should be on protecting the U.S. rather than on helping refugees from Syria, where Islamic State has made a base of operations. Obama "lives in a fantasy world," Christie said.
Christie and John Kasich of Ohio, another presidential contender, were among more than 20 Republican governors calling for a crackdown on arrivals from Syria. Jeb Bush, the ex-Florida governor who also is running, told Fox News that the U.S. and allies should use military force and strengthen ties with Sunni tribal leaders rather than shut its doors to Syrians looking to escape the uprising.
Mark Toner, a State Department spokesman, said Tuesday that governors can't block refugees.
U.S. House of Representatives Majority Leader Kevin McCarthy of California said the chamber plans to vote Thursday on legislation that would block Syrian refugees from entering the country unless four top U.S. law-enforcement and national security officials affirm to Congress that none is a threat.
One Islamic State extremist who staged the attacks in Paris on Nov. 13 may have entered Europe posing as a Syrian refugee. The violence, at seven sites, killed 129 people and injured more than 300. Christie said Obama's plan to accept 10,000 refugees would endanger the U.S.
"His own FBI director says they do not have the capacity to vet these people," Christie said. "That should be the end of the conversation."
Before it's here, it's on the Bloomberg Terminal.
LEARN MORE