Can Anything Stop Companies From Loading Up on Debt? UBS Says No.
Backward-looking executives and issuer-dependent rating agencies will keep the party going.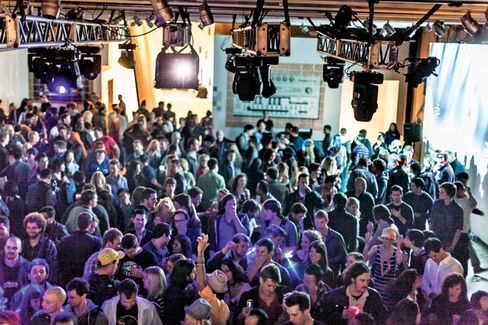 Is it a bird? Is it a plane? No! It's the unstoppable corporate releveraging cycle.
It's no secret that companies have been taking advantage of years of low interest rates to sell cheap debt to eager investors, locking in lower funding costs that have allowed them to go on a spree of share buybacks and mergers and acquisitions.
With fresh evidence that investors are becoming more discerning when it comes to corporate credit as the first U.S. interest rate rise in almost a decade approaches, it's worth asking whether anything might stop the trend of companies assuming more and more debt on their balance sheets.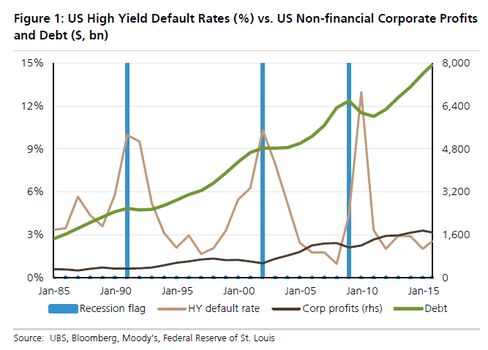 In a note published on Wednesday, UBS analysts Matthew Mish and Stephen Caprio offer an answer to that question. After looking at four factors that could theoretically derail the corporate debt train they answer: pretty much nothing.
For a start, they note that higher funding costs are unlikely to dissuade companies from continuing to tap the debt market since, even after a rate hike, financing costs will remain near historic lows. "The predominant reason is the Fed[eral Reserve] is anchoring low interest rates," the analysts wrote.
When it comes to the hubris of corporate chief financial officers, who have been more than happy leveraging up balance sheets in order to reward shareholders, the analysts didn't mince words. "We find that corporate CFOs historically are inherently backward-looking when setting corporate financing decisions, relying on past extrapolations of economic activity, even when current market pricing suggests future investment returns may be lower," they wrote. "Several management teams have been on the road indicating higher funding costs of up to 100 to 200 basis points would not impede attractive M&A deals, in their view."
Higher market volatility has often been cited as one factor that could knock the corporate credit market off its seat, but the UBS duo sees little reason for it to put a dent in debt issuance. "In a low-yield environment, we anticipate significant vol[atility] selling interest to resurface so long as fundamentals are not falling off a cliff," they said. Even in the third quarter of 2015, when markets were roiled by a global stock selloff, sales of investment-grade bonds were up 32 percent year-on-year, they noted.
That leaves downgrades by credit-rating agencies as one catalyst that could spark a turn in the cycle; downgrades of corporate credit have already exceeded upgrades this year at some of the bond graders. Here, Mish and Caprio offered some stunningly blunt words. "Might the rating agencies spoil the party?" they asked. "In the end we believe strong economic interests will overwhelm rationale considerations. Rating agencies remain heavily dependent on new issuance activity, face significant competitive pressures (as issuers will select two of three ratings) and appear unconcerned with where we are in the credit cycle (e.g., see Moody's latest conference call)."
Ouch.
With UBS having taken all those potential catalysts firmly off the table, that leaves just fundamentals to worry about. Who, for the past few years, has been worrying about those? [Sarcasm? - Editor]
"Bottom line, we struggle to envision an end to the releveraging phenomenon—absent a substantial correction in corporate earnings and/or broader risk assets," concluded the UBS analysts.
Watch Next: Plumbing the Depths of Global Debt Levels
Before it's here, it's on the Bloomberg Terminal.
LEARN MORE