BlackRock Winding Down Global Macro Hedge Fund After Losses
Assets have dropped below $1 billion from $4.6 billion in 2013

Fund slumped 14.5% this year through May before paring losses
BlackRock Inc., the world's largest asset manager, is winding down a global macro hedge fund after losses and investor redemptions eroded assets.
BlackRock Global Ascent lost 9.4 percent this year, according to an October investor document, on track for its worst year since inception in 2003. The fund, which had $4.6 billion in assets just two years ago, has shrunk to less than $1 billion as of Nov. 1, said a person familiar with the matter, who asked not to be named because the information is private.
BlackRock, known better for its exchange-traded funds and mutual funds, is joining money managers including Fortress Investment Group LLC and Bain Capital that shuttered macro funds this year. Many investors have struggled to navigate market turns that included an unexpected surge in the Swiss franc in January, a rally in European government bonds in April, a surprise devaluation of the Chinese yuan in August, falling oil and gold prices and a third-quarter selloff in stocks that were popular with hedge funds.
"It shows how difficult it is to make money in the macro space now," said Martin Gilbert, chief executive officer of Aberdeen Asset Management Plc in a Bloomberg Television interview. "It's a big blow for BlackRock" in terms of reputation.
Global Ascent, run by Paul Harrison, sought to profit from inefficiencies in global currency, fixed income, credit, equity and commodity markets. The fund lost 12.3 percent in the first quarter, extended losses to 14.5 percent through May, before paring declines, according to investor documents.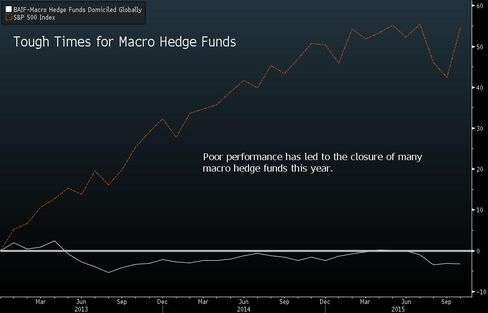 "We believe that redeeming the Global Ascent Fund was the right thing to do for our clients, given the headwinds that macro funds have faced," the firm said in an e-mailed statement.
Harrison had been on the investment team of the fund since 2006 and ran it as lead manager since 2010. Most of the fund's position have been closed out and converted to cash, said the person familiar with the matter. BlackRock expects that a number of the fund's managers will join other investment teams within the firm.
The fund had three losing years before this year, declining 2.9 percent in 2004 and about 7 percent in 2008 and 2011. Over the past four years, returns haven't exceeded 1.4 percent.
Some 417 hedge funds announced shutdowns in the first half, according to Hedge Fund Research Inc.
Bain, Fortress
Among the closures this year were Comac Capital, the London-based manager run by Colm O'Shea, who shut his $1.2 billion firm in January after losses on the Swiss franc. Two months later, a pair of funds backed by billionaire investor Julian Robertson -- TigerShark Management and Tiger Consumer Management -- told clients they were shuttering.
Bain Capital's Absolute Return Capital hedge fund liquidated after more than three years of losses. The fund declined 13 percent this year through July, which would have been its worst year since its 2004 inception. Fortress last month said it's liquidating its $2.3 billion macro business following almost two years of losses. Michael Novogratz, who ran the strategy, will leave by year-end.
BlackRock's global macro fund is part of the firm's direct hedge fund business, which oversaw $31 billion as of June. The unit, which started its first strategy in 1996, runs more than a dozen funds, including a $2 billion fundamental global fixed-income pool and $1.3 billion multi-strategy fund.
Higher Fees
Shares of the money manager gained 0.5 percent at 11:04 a.m. in New York. The stock is down 0.7 percent this year, compared with a decline of 6.5 percent for the 19 member Standard & Poor's index of asset managers and custody banks.
BlackRock said in the statement that it's "committed" to macro investing and that macro factors can be an important element in producing performance.
BlackRock oversees $4.5 trillion globally, though much of it is in low-fee exchange-traded funds. The firm this month cut fees on some ETFs to as low as 0.03 percent of assets. The hedge funds, while small by comparison, carry much higher fees -- in the case of the macro fund, a 2 percent management fee and 20 percent of profits.
"Reflecting our fiduciary ethos, BlackRock regularly reviews its product set to ensure alignment with client interests," the firm said. "Over the past several years, we have closed, on average, over 200 funds a year."
Before it's here, it's on the Bloomberg Terminal.
LEARN MORE