Best Forecaster for Mexican Peso Doesn't Really Look at Mexico
Przemyslaw Kwiecien, 36-year-old based in Warsaw, tops ranks

X-Trade forecasts peso little changed through year-end
The best forecaster for the Mexican peso is a 36-year-old economist in Warsaw who says he barely keeps tabs on what's going on in the Latin American country.
The key to correctly predicting moves in the most-traded emerging-market currency is to focus on global sentiment toward developing nations and the outlook for monetary policy in the U.S., Europe and Japan, according to Przemyslaw Kwiecien, the chief economist at X-Trade Brokers SA, a 13-year-old firm that caters to mom-and-pop currency traders.
"We look at the global environment, especially for emerging-market currencies that are very often driven by external factors," Kwiecien, who worked as an adviser to Poland's Finance Ministry before joining X-Trade Brokers in 2007, said in an interview. "This is how I try to channel all the macroeconomic releases that we receive every day, through the thinking of central bankers."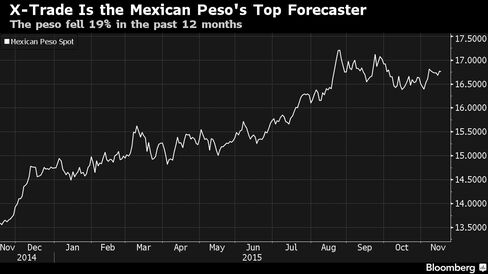 Kwiecien was the most accurate peso forecaster in the third quarter, when Mexico's currency tumbled 7 percent and touched the lowest level since its introduction in 1993 amid speculation that higher U.S. interest rates would discourage investment just as a drop in oil prices sapped income from its biggest export. While a small player in the $5 trillion global foreign-exchange market, X-Trade Brokers gained some fame earlier this year when executives correctly predicted Swiss policy makers would allow the franc to gain against the euro, prompting the brokerage to demand higher collateral on its clients' wagers and avoid the losses seen by bigger players including Citigroup Inc. and FXCM Inc.
X-Trade Brokers sees the peso ending the year little changed from current levels, at about 16.76 per dollar, in line with the median estimate of analysts surveyed by Bloomberg. Kwiecien stands out in his forecast for 2016, when he sees the peso slipping 1.7 percent to end the year at 17.03, while the median estimate calls for a 2.7 percent gain to 16.3 per dollar.
"Unless we see some deterioration in U.S. data, I think the Fed might be increasing rates at a more frequent pace" next year, Kwiecien said. "It's very likely that because of this fact, we will see the the dollar still making some gains next year."
Before it's here, it's on the Bloomberg Terminal.
LEARN MORE