Midwest Gas Burners Are Shale's Biggest Beneficiaries This Year
Shale supplies are shrinking the premium for Chicago gas

Midwest heating costs to decline 14% this winter: EIA
When it comes to reaping the benefits of cheap U.S. shale gas, it's good to be in the heartland.
The cost of heating with natural gas will slide more in the Midwest this winter than any other region, dropping 14 percent from a year earlier, according to the U.S. Energy Information Administration. The premium for gas supplies to Chicago versus the benchmark Henry Hub in Louisiana is headed for the lowest annual average in five years.
Sliding prices in the Midwest illustrate how a broader transformation in the nation's gas pipeline system is helping deliver a bonanza of shale supply to market. The production boom means consumers in the heartland, where about a third of households use gas for heating, will be shielded from sky-high fuel costs as the weather turns colder.
"The entire dynamic of the North American gas market has been turned on its head," Stephen Schork, president of the Schork Group Inc., an energy consulting company in Villanova, Pennsylvania, said by phone Tuesday. "Gas that used to be flowing east is now heading in the opposite direction."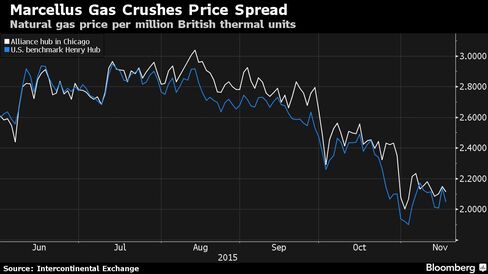 Gas at the Alliance hub, which serves the Chicago market, traded at $2.1503 per million British thermal units Monday, compared with $2.1392 at Henry Hub.
A raft of pipeline projects, including Spectra Energy Corp.'s Ohio Pipeline Energy Network and Tallgrass Development LP's reversal of the Rockies Express pipeline, have entered full or partial service this year, helping carry supplies from Appalachia's Marcellus and Utica shale formations to markets in the Midwest and Southern U.S.
The production surge will eventually be reflected in lower regional prices across the U.S., Stefan Revielle, an analyst at Morgan Stanley in New York, said in a note to clients Monday.
"Low-cost Appalachia gas is likely to further displace Rockies as well as Canadian gas inflows from the Midwest, pressuring all regional markets lower," Revielle said.
Before it's here, it's on the Bloomberg Terminal.
LEARN MORE