The average buyer of a home in London in the third quarter earned a record 104,000 pounds ($158,000) a year as apartment and house prices surged.
Homebuyers in the U.K. capital typically borrow an average of 340,000 pounds, according to data compiled by the Office for National Statistics. The previous record for earnings was 98,000 pounds in the second quarter.
The Bank of England moved to curb housing inflation in London in October 2014 by limiting loan-to-income multiples for borrowers and earlier this month Governor Mark Carney said that policy makers can take further measures if needed. The average home in London now sells for 531,000 pounds, after gaining 7.2 percent in the 12 months through September, the data shows, as a rising population and a shortage of homes drives values higher.
The capital's first-time buyers had an average annual salary of 82,000 pounds in the third quarter, the data shows. The ONS does not say how many of the buyers were couples with joint incomes.
The London house-price index is now 48 percent above highs achieved before the global financial crisis, the ONS said Tuesday. The annual rate of house-price inflation in London was 5.4 percent in August, the ONS said.
(An earlier version of this story was corrected to change the date in the third paragraph.)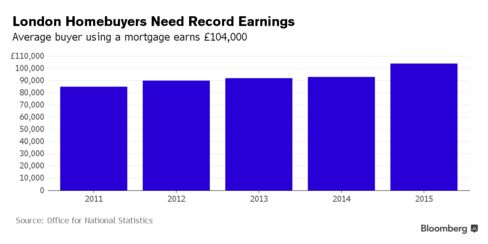 Before it's here, it's on the Bloomberg Terminal.
LEARN MORE