Manufacturing in U.S. Climbs for First Time in Three Months
Gain led by pickup in output of building supplies, vehicles

Warm weather drove down utility use, oil drilling hit mining
Factory output increased in October for the first time in three months as producers turned out more construction materials and motor vehicles.
The 0.4 percent advance at manufacturers exceeded the median forecast in a Bloomberg survey and followed a 0.1 percent drop in September, figures from the Federal Reserve showed Tuesday. Total industrial production unexpectedly dropped 0.2 percent for a second month as warm weather reduced electricity demand and the oil industry continued to cut back.
U.S. dollar appreciation and soft global growth mean manufacturers have largely depended on domestic consumers to help draw down bloated inventories. Demand for autos and other big-ticket items have been bright spots for factories, and additional evidence of wage growth may help households feel confident enough to boost spending even further.
The figures show "pretty broad strength in manufacturing," said Sam Coffin, an economist at UBS Securities LLC in New York, who is the top-ranked forecaster of factory output over the past two years, according to data compiled by Bloomberg. "It's too early to declare the inventory correction over, but it certainly hints there's less of a drag at the start of Q4 than at the start of Q3."
The median forecast in a Bloomberg survey called for manufacturing, which makes up about 75 percent of total production, to increase 0.2 percent in October. Compared with October of last year, factory output was up 1.9 percent, less than the 2.4 percent average since the start of 2014.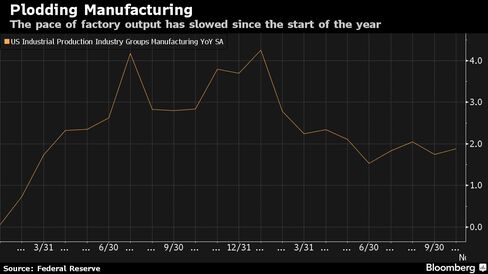 Total industrial production was projected to rise 0.1 percent, with estimates ranging from a drop of 0.5 percent to a 0.4 percent gain, according to the survey of 80 economists.
Capacity utilization, which measures the amount of a plant that is in use, eased to 77.5 percent last month from 77.7 percent. Factory capacity picked up to 76.4 percent.
Mining production, including oil drilling, dropped 1.5 percent last month after a 2.4 percent decrease in September. Oil and gas-well drilling declined 5 percent after a 4 percent retreat a month earlier.
Utility output fell 2.5 percent last month, the most since April, after rising 1.2 percent. Last month was the warmest October since 1963, with 14 states experiencing temperatures much above average, according to the National Oceanic and Atmospheric Administration.
"It was a warm month nationally. There wasn't as much need to heat homes and that weighs on utility output," said Brett Ryan, a U.S. economist at Deutsche Bank Securities Inc. in New York.
Auto Sales
Americans' lingering appetite for new cars, amid easy standards for loans, remains a pillar of support for the industry. Cars and light trucks sold at an 18.1 million annualized rate last month, the most since July 2005, according to data from Ward's Automotive Group.
Output of motor vehicles and parts climbed 0.7 percent in October after rising 0.5 percent a month earlier. Excluding autos and parts, factory production increased 0.4 percent last month, the biggest gain since November 2014.
The figure reflected a 1.7 percent increase in the output of construction supplies. Almost all categories of big-ticket durable goods climbed in October, including appliances, electrical equipment and primary metals. Textile producers also picked up the pace of output.
Business equipment production rose 0.2 percent in October after a 0.5 percent decrease the month before. Consumer goods production eased 0.1 percent.
Before it's here, it's on the Bloomberg Terminal.
LEARN MORE