U.S. Stocks Rise Most in 4 Weeks, Dollar Gains on Fed Minutes
Officials see economy likely strong enough for rate increase

Subsequent tightening to be gradual and shallow, notes show
U.S. stocks rallied the most in four weeks, while Treasuries pared losses after Federal Reserve meeting minutes bolstered confidence in the strength of the economy and reinforced speculation that interest-rate increases will be gradual.
The Standard & Poor's 500 Index jumped as the Fed signaled the U.S. economy is on firm-enough footing to withstand higher rates this year. Ten-year Treasury notes briefly erased losses after policy makers largely agreed the pace of increases would be slow once tightening begins. The dollar strengthened, while emerging-market assets slipped.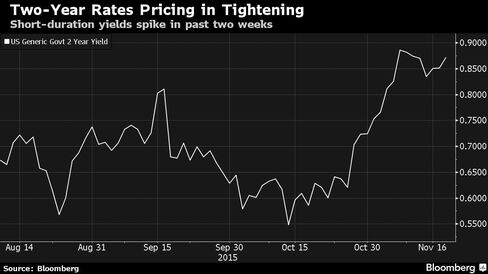 The central bank signaled "it may well be appropriate" to raise rates next month, said minutes of the Oct. 27-28 meeting. Economic data since then have been encouraging, with payrolls logging the biggest gain this year and unemployment falling to 5 percent. Job openings climbed to the second highest on record, while the consumer price index, minus food and energy, rose 1.9 percent last month. The probability that the Fed will increase its benchmark rate this year at 66 percent, according to futures data compiled by Bloomberg.
"Now the question is going to be what it should have been along: not when, but how far and how fast," said John Canally, chief economic strategist at LPL Financial Corp. in Boston. "They've been trying to communicate not just that the Fed is going to hike in December, but that the dot plots path will be lowered, and that's a good outcome for the market."
Stocks
The S&P 500 added 1.6 percent at 4 p.m. in New York, extending gains after the minutes. The index fell as much as 4.1 percent after Fed Chair Janet Yellen on Nov. 4 reminded investors that raising rates in December was a "live possibility." The index has since trimmed that to 1.3 percent, and is within 2.2 percent of its record.
"The next thing the bull market needs is reassurance from the Fed that the economy is on stable ground and that will come in the form of a rate hike," Kevin Mahn, president of Parsippany, New Jersey-based Hennion & Walsh Asset Management Inc, said in a phone interview.
While a report on Wednesday showed U.S. housing starts fell more than economists forecast, Atlanta Fed President Dennis Lockhart said before the minutes were released that he's comfortable moving rates higher soon and the longer policy makers wait, the more aggressively they'll need to move in the future.
The Stoxx Europe 600 Index lost 0.1 percent, paring a decline of as much as 0.8 percent. France's CAC 40 Index was among the biggest decliners after a police gun battle with suspects linked to the Paris terror attack. Air Liquide SA dropped 6.8 percent after agreeing to pay $10.3 billion for rival Airgas Inc.
Bonds
The yield on 10-year Treasury notes was little changed at 2.27 percent after earlier touching 2.31 percent. The two-year rate rose two basis points to 0.82 percent, the highest in a week.
The extra yield Treasury two-year notes offer over their Group-of-Seven peers widened to the most in eight years as the Fed considers tightening while the European Central Bank may add to stimulus at its meeting next month.
"The Fed is talking about 'We're going to raise rates' and the ECB is talking about easing," said Roger Bridges, chief global strategist for interest rates and currencies in Sydney at Nikko Asset Management Australia, which oversees $16.4 billion. "That's really saying that the U.S. is cheap."
The rate on German 10-year bunds was little changed at 0.52 percent after touching 0.49 percent, the lowest level since Oct. 29. Germany sold two-year notes with a record-low yield of minus 0.38 percent and auctions of Portuguese bills also drew negative yields.
Currencies
The dollar traded near a seven-month high against the euro as the Fed policy makers signaled December is in play. The Bloomberg Dollar Spot Index, which tracks the greenback versus 10 peers, rose 0.1 percent, after reaching its highest level in more than a decade. The dollar slid 0.1 percent to $1.0649 per euro after touching the strongest level since April, and was little changed at 123.57 yen.
"We've priced the December rate hike into the dollar," said Chris Gaffney, president at EverBank World Markets in St. Louis. "I don't think it changed anybody's opinion on when the liftoff is going to begin. It squarely puts it in December, and that it's going to be slow after that."
Commodities
Oil was little changed near a two-month low after dropping below $40 a barrel in New York for the first time since August as producers' output swelled global inventories to a record. U.S. supplies climbed to the highest for the season in more than 80 years, according to government data. Futures added 8 cents to settle at $40.75 a barrel in New York, after briefly touching $39.91.
Nickel dropped to the lowest level in more than a decade amid slowing stainless-steel production in China as Asia's largest economy faces the weakest growth in a generation. Zinc dropped to the lowest in more than six years.
The LME index of six industrial metals has tumbled 25 percent in 2015 and is heading for its worst year since the global financial crisis as China, the biggest user, faces the weakest growth in a quarter of a century.
Before it's here, it's on the Bloomberg Terminal.
LEARN MORE