Egg Costs Fall From Record as Chicken Flocks Rebound From Flu
Retail U.S. price drops 5% in October as imports increase

Avian influenza drove costs up 52% in previous four months
U.S. retail egg costs fell in October from a record reached after prices soared 52% in the previous four months following the poultry industry's loss of 48 million birds caused by avian influenza.
Egg prices declined 5.3 percent to $2.808 a dozen from the all-time high of $2.966 in September, data from the Bureau of Labor Statistics showed Tuesday. The drop was the biggest since May 2014. In September, the number of laying hens rose for the third straight month, according to U.S. Department of Agriculture.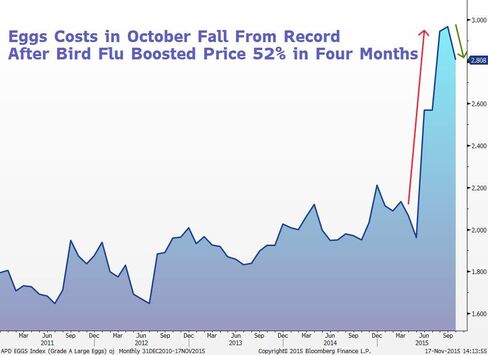 "We started to see the bird population rebound, and people were looking at ways to reduce or replace their egg products," Brian Moscogiuri, an egg-market analyst at Urner Barry in Bayville, New Jersey, said in a telephone interview.
U.S. egg imports in 2015 will double to a record 80.9 million dozen, the agriculture agency said on Nov. 10.
High prices spurred producers to ramp up output, while processors boosted imports, Moscogiuri said.
"Consumers should be expecting to see higher prices at retail" because of limited promotions for the holiday season, compared with a year earlier, he said.
Of the 48 million birds wiped out by flu, at least 32 million were egg-laying chickens, USDA data show. The last avian influenza case was detected on June 17.
Meat Bargains
Last month, retail ground beef fell 1 percent to $4.083 a pound, the lowest since August 2014, and boneless chicken breast dropped 0.6 percent to $3.356 a pound, the cheapest since April 2013, government data showed Tuesday. Pork chops declined 0.1 percent to $3.875 a pound and are down 4.5 percent this year, heading for the first slump since 2012.
U.S. production of red meat and poultry will climb 2.8 percent this year to 94.414 billion pounds from 2014, the USDA forecast on Nov. 10.
"This year, we started building total meat supplies," John Nalivka, the president of Sterling Marketing Inc. in Vale Oregon, said in a telephone interview. "Next year, we're going to build it even more."
Before it's here, it's on the Bloomberg Terminal.
LEARN MORE