Economic Takeaways of U.S. Consumer Prices, Manufacturing Output
Households paying less for goods but services more expensive

Output of construction supplies, durables boosts manufacturing
What you need to know about Tuesday's U.S. economic data:
CONSUMER-PRICE INDEX (OCTOBER)
Headline and core (ex-food, energy) rose 0.2 percent, in line with median estimates
CPI up 0.2 percent from year ago, core CPI climbed 1.9 percent
Goods prices ex food, fuel down 0.7 percent from year earlier, biggest 12-month decrease since January
Cost of services minus energy jumped 2.8 percent from October 2014, strongest advance since November 2008
The Takeaway: Weak global growth and a strong dollar are helping depress commodity prices, while an improving U.S. economy and reduced joblessness are allowing service providers to charge more. The increase in services inflation is spreading beyond rents to include health care, auto insurance and movie tickets. This will probably boost confidence among Federal Reserve policy makers that inflation will head toward their 2 percent target after missing that goal since May 2012.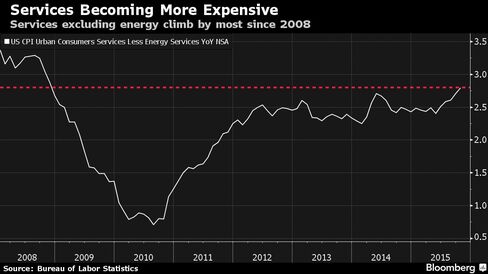 INDUSTRIAL PRODUCTION (OCTOBER)
Fell 0.2 percent for second month, weaker than 0.1 percent gain forecast, as output declined at utilities and mines
Factory production climbed 0.4 percent, twice the median forecast
Warm weather led to 2.5 percent drop in utility output, most since April, while declines in crude oil extraction and well drilling pushed mining production down 1.5 percent
The Takeaway: The rebound in factory activity may suggest the drag on the industry from a stronger dollar and weak global growth is easing. While auto production has been a pillar of support for manufacturing, and October proved no exception, the Federal Reserve's data also showed broad improvement in other areas. Particularly encouraging was a pickup in the output of construction materials, which climbed by the most since December 2011. Production of durable goods such as appliances and primary metals also rose. Still, plenty of slack remains in the factory sector, with plant capacity at 76.4 percent last month. That compares with 78.7 when the last recovery ended in December 2007.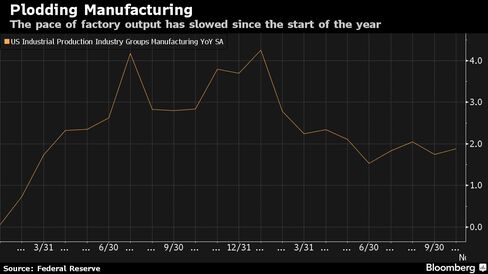 NAHB HOMEBUILDERS INDEX (NOVEMBER)
Gauge of optimism unexpectedly fell to 62 from an October reading of 65, which was highest in a decade
Measures of current sales and purchase expectations both dropped
Builders continue to complain about availability of lots, skilled labor
The Takeaway: While sales and expectations cooled during the month, a measure of foot traffic of prospective buyers increased to the highest level in 10 years. The survey of builders is consistent with further strength in home sales and construction. That may help explain why the Fed's industrial production report showed stronger output of construction materials.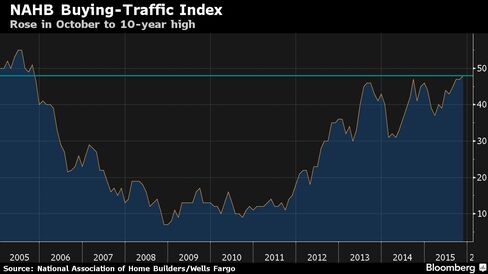 Before it's here, it's on the Bloomberg Terminal.
LEARN MORE