Biggest Angolan Private Bank Said to Restrict Dollar Withdrawals
BAI said to limit customers to withdrawing $2,000 a week

Travelers urged to buy currency of destination, not dollars
Banco Angolano de Investimentos, Angola's largest privately owned bank by assets, is restricting dollar cash withdrawals because it expects its supply of the currency to end Nov. 30, according to a person with knowledge of the matter.
Customers of the bank, known as BAI, are limited to withdrawing $2,000 a week, the person said, asking not to be identified because they said the information is sensitive. The bank has no source of the currency lined up after the end of the month, the person said. Fabio Correira, marketing and communications manager at BAI, wasn't available when called for comment Tuesday.
The American embassy in Luanda said in a Nov. 13 posting on its Facebook page that there were no regulations by the U.S. government prohibiting the sale of dollars to Angola, responding to what it said were rumors circulating in Africa's second-largest oil producer. Angola, which gets most government revenue from the sale of crude, has devalued the kwanza twice this year as it struggles to cope with a slump of 40 percent in the price of oil in the past 12 months.
Rand Merchant Bank, a unit of Johannesburg-based FirstRand Ltd., said Nov. 13 it would discontinue supplies of dollars to client banks in Angola as of Nov. 30. RMB said the U.S. bank that provides it with dollars for onward distribution in Angola had notified it in late October that the service would be ended. RMB didn't identify the U.S. bank or say why it was halting the supply of foreign currency. It also didn't name any of its Angolan client banks.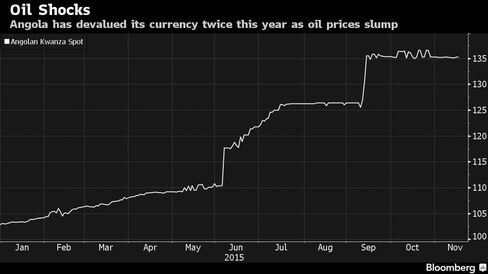 Customers of Banco Fomento Angola, the country's second-largest bank, are required to convert any dollars they wish to withdraw to kwanzas at the official rate, a teller at a Luanda branch of the lender said this week, asking not to be identified because they aren't authorized to speak to the media. A spokesman for the bank declined to comment.
Angolans traveling abroad should use credit, debit and prepaid cards, the country's banks association said on its website, warning about the "continued reduction in the delivery of banknotes." Travelers seeking foreign banknotes should buy the currency of their destination country, rather than dollars, it said.
Before it's here, it's on the Bloomberg Terminal.
LEARN MORE