Aussie's Rally After 30% Drop in Three Years Seen as False Dawn
Australia's dollar is best performer in G-10 this quarter

Strategists say losses will resume, take currency to 2009 lows
Gains that made Australia's dollar the best-performing currency in the developed world this quarter are destined to evaporate, analysts say, with those at the country's biggest banks among those calling the loudest for a reversal.
The Aussie has strengthened against all its Group-of-10 peers since Sept. 30 on signs the nation's central bank won't cut the benchmark interest rate beyond a record-low 2 percent amid a revival in the jobs market.
Bears argue the Reserve Bank of Australia hasn't ruled out further easing if needed for an economy ravaged by a slump in China that's crushing prices of raw materials. And with the Federal Reserve preparing to raise its own interest rates, strategists surveyed by Bloomberg see the Aussie resuming its three-year slide and tumbling to levels unseen since 2009.
"The Aussie's recent rally is unlikely to last because the market is underestimating the chances that the RBA will cut rates again at a time when the Fed is set to start raising them," said Joseph Capurso, a strategist in Sydney at Commonwealth Bank of Australia, the nation's biggest lender by market value. "Weak China growth and declining commodity prices don't argue for lasting Aussie dollar strength."
CBA predicts Australia's dollar will tumble to 65 U.S. cents in the first half of next year, from 71.11 cents as of 6:14 a.m. in New York on Wednesday. It slid to a six-year low of 68.96 cents in September.
China's Slump
Westpac Banking Corp. and Macquarie Bank Ltd. both see the currency falling to 66 cents by June, and even the median estimate in a Bloomberg strategist survey projects it will weaken to 68 cents, a level it last reached in March 2009.
That would be a boon for the RBA and its governor, Glenn Stevens. A weaker currency boosts income from exports, something Australia needs with China -- which buys more than a third of its shipments including iron ore and copper -- struggling to revamp its economy. Copper prices fell to a six-year low on Tuesday, when iron ore delivered to China tumbled 4.5 percent.
While reluctant to pursue ever-looser monetary policy for fear of inflating a real-estate bubble, Stevens has cut rates for four years, shrinking the yield advantage his nation's 10-year bonds offer over U.S. Treasuries to less than a quarter of its 2.8 percentage-point peak in February 2008.
The result has been a drop of more than 30 percent in the Aussie versus the U.S. dollar since 2012. A 13 percent decline this year alone has left it on course for the steepest three-year slump since it was freely floated in 1983.
Jobs Improvement
Australia's dollar interrupted its slide in September, buoyed by a leveling off in RBA interest rates and supported by gains in employment. A report last week showed the jobless rate unexpectedly fell in October, while minutes of the Nov. 3 policy meeting released on Tuesday showed the RBA forecast growth would strengthen gradually.
Those anticipating a sustained advance -- including a "large minority" of foreign investors who think the Aussie has bottomed out -- are seeing "a false dawn," said Gareth Berry, a foreign-exchange and rates strategist at Macquarie Bank in Singapore.
"If the currency doesn't fall on its own accord, the RBA has the ammunition to cut, which will eventually deliver currency weakness," said Berry, whose bank was the most-accurate home-grown forecaster of the Australian dollar in Bloomberg's third-quarter rankings. "The currency will trickle lower, but not aggressively so over the next few months."
Turning Bearish
Hedge funds and other large speculators turned negative on the Aussie in June and have increased net bets against the currency to the highest in about two months, data from the Commodity Futures Trading Commission in Washington show. Bearish bets were spurred on by signs Chinese growth was slowing, including its unexpected devaluation of the yuan in August.
Options traders see things differently and have reduced positions benefiting from a weaker currency. The premium traders pay for one-month contracts giving the right to sell the Aussie over those to buy narrowed to 0.9 percentage point from 2 percentage points at the end of January, data compiled by Bloomberg show.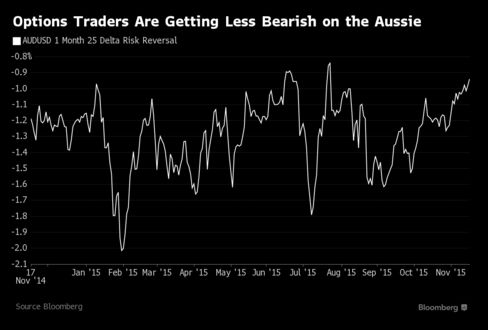 Swaps traders, too, have lowered the odds to less than 50 percent that the RBA will cut interest rates by its June meeting. But not everyone has abandoned forecasts for a reduction.
"The bears probably did get a bit too excited by August's China stock slump and yuan devaluation, wrongly viewing both as indicators of a significant deceleration in China's economy," said Sean Callow, a foreign-exchange strategist at Westpac in Sydney. "But Aussie bears should be able to take comfort that there's little chance that going into 2016 they'll be wrong-footed by a sudden upswing in global demand for commodities."
Before it's here, it's on the Bloomberg Terminal.
LEARN MORE