Asia Stocks Rise From Six-Week Low as Weakening Yen Buoys Topix
Australia equity index rises most since August as banks climb

History shows market reaction to terror incidents often short
Asian stocks rose from a six-week low as a weakening yen boosted Japanese shares and concern eased from the attacks in Paris.
The MSCI Asia Pacific Index added 1.1 percent to 131.91 at 3:53 p.m. Hong Kong time after closing Monday at the lowest since Oct. 6. Share indexes rallied in Europe and the U.S., with the Standard & Poor's 500 Index jumping 1.5 percent and the Stoxx Europe 600 Index climbing 0.3 percent as investors returned following a selloff in the wake of Friday's attacks in Paris. The history of terror incidents around the world over the last 15 years suggests market reactions are increasingly short-lived.
While the Asia-Pacific gauge has rallied 9.1 percent from a September low, it's still down 4.2 percent this year and may post its first back-to-back annual declines since 2002 as investors assess the extent of China's economic slowdown amid preparations by the Federal Reserve to raise interest rates as early as next month.
"We're at a stage where U.S. interest rates are probably going to go up, yet the markets are fairly sanguine," Richard Harris, chief executive officer at Port Shelter Investment Management, told Bloomberg TV in Hong Kong. "I wonder whether they've found a bit of a bottom level. "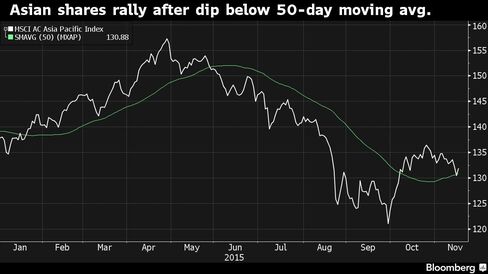 It's been more than 10 years since Europe experienced terror attacks of comparable scope to those in Paris. Past incidents, such as bombings that killed 191 people on Madrid commuter trains in March 2004 and left more than 50 dead in London in July 2005, spurred selloffs in equities that were erased days or weeks later.
Unfortunate Precedent
"What we have learned is that there is not a meaningful market impact from such attacks," Anastasia Amoroso, a New York-based global market strategist at JPMorgan Asset Management, told Bloomberg TV. "So because we have this unfortunate precedent, that's why the market is looking past this."
Japan's Topix index advanced 0.9 percent after the yen slid 0.5 percent against the dollar on Monday. Toyota Motor Corp., which gets 78 percent of sales outside Japan, climbed 1.8 percent. Mazda Motor Corp., which gets 20 percent of its revenue from Europe, jumped 3.6 percent.
BoJ Meeting
The Bank of Japan meets this week, with policy makers not expected to add to record quantitative easing on Nov. 19, despite a report on Monday showing Asia's second-biggest economy has slipped back into recession.
BOJ officials would view the GDP data as unlikely to change their outlook for an improving trend in inflation, people familiar with discussions at the central bank said last week.
The Hang Seng China Enterprises Index of mainland shares in Hong Kong added 1 percent and the Hang Seng Index gained 1.2 percent. The Shanghai Composite Index fell 0.1 percent, erasing a 2 percent advance on concern the resumption of initial public offerings will lure investors away from the country's priciest shares.
South Korea's Kospi index added 1.1 percent. Taiwan's Taiex Index gained 1.5 percent after lawmakers voted to scrap a planned levy on equity trades. India's S&P BSE Sensex Index rose 0.2 percent.
Australia's S&P/ASX 200 Index jumped 2.3 percent, the most since Aug. 25, led by banks. Westpac Banking Corp. climbed 1.9 percent and Commonwealth Bank of Australia advanced 3.1 percent. New Zealand's S&P/NZX 50 Index gained 0.1 percent.
E-mini futures on the Standard & Poor's 500 Index slid 0.1 percent. Futures show a 68 percent chance the Federal Open Market Committee will announce a rate increase by Dec. 16, up from a 50 percent probability at the end of October. Minutes from the Federal Reserve's October policy meeting will be released on Wednesday.
Before it's here, it's on the Bloomberg Terminal.
LEARN MORE