Frequent-Flier Era Ends as American Bases Rewards Plan on Fares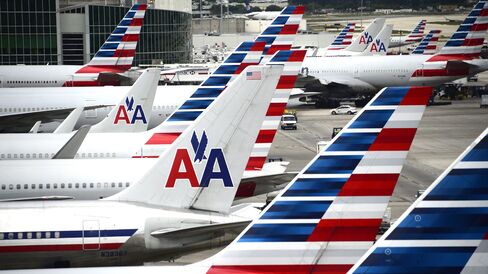 Airline's shift follows similar moves by Delta and United

American to cut some redemption levels while increasing others
American Airlines will join Delta and United in basing loyalty awards on the amount spent, ending an era in which frequent travelers racked up long trips to collect enough miles for a free ticket.
The shift, which provides greater rewards to those who spend the most, will occur in the second half of next year, American Airlines Group Inc. said in a statement Tuesday. The carrier's AAdvantage frequent-flier program is the largest in the industry, with 100 million members.
American had put off changes to the loyalty plan while focusing on meshing its operations with those of 2013 merger partner US Airways. Some travelers had hoped the airline would remain the last holdout with a mileage-based plan, said Jay Sorensen, president of airline consultant IdeaWorksCompany.com.
"Frequent-flier enthusiasts who accrue lots of miles and spend little money will be very upset by American's change because, effectively, the game is now over," Sorensen said in an interview.
Delta Air Lines Inc. and United Continental Holdings Inc. switched to the fare-based system last year. In response, American sweetened awards for passengers buying the most-expensive tickets, under a one-year plan that also rewarded discount-fare buyers.
A Disadvantage
American found itself at a disadvantage with the miles-based system since competitors could offer outsize rewards to their best, highest-paying customers, Sorensen said. "Had American been successful by being different, they wouldn't have changed," he said.
Under the new plan, travelers will be rewarded for each dollar spent. Greater credit will be given to those with more miles in the AAdvantage program. American also will reduce the amount required to redeem some awards by as much as 40 percent and trim redemption levels for select destinations in the Caribbean, Mexico and Central America. Award miles required for certain flights to Asia and Europe will increase. Those changes will occur in March, the airline said.
In addition to changing its frequent-flier program, American has said it hopes to begin offering a new type of fare next year that would have fewer frills to match competitors' lower prices. Those tickets would be designed to appeal to customers who might choose between American and so-called ultra-low-cost airlines. American President Scott Kirby declined to provide details in a conference call last month.
Delta last year resurrected its bare-bones Basic Economy fare for the same reason. With such a ticket, travelers can't get seat upgrades or make same-day flight changes and will board last.
Before it's here, it's on the Bloomberg Terminal.
LEARN MORE