UBS Adding Senior Ranks in Asia for First Time Since Crisis
UBS's Hanning adding about 15 senior Asia bankers in 12 months

Hanning sees opportunity to benefit from `dislocation'
UBS Group AG is adding to its ranks of senior investment bankers in Asia for the first time since the global financial crisis, seeking to wring market share in dealmaking away from competitors that are reorganizing.
The Swiss bank recently hired three managing directors and one executive director in the region and plans to add roughly another dozen bankers of similar seniority over the coming 12 months, said Matt Hanning, the head of UBS's investment bank in the Asia-Pacific region. The additions will be made through recruiting as well as promoting and replacing existing managers, he said.
UBS, which started trimming its investment bank three years ago under Chief Executive Officer Sergio Ermotti, has been taking market share in China from global competitors, data from Freeman & Co. show. With the hiring plan, Hanning is aiming to add to that momentum as European banks like Deutsche Bank AG, Credit Suisse Group AG and Standard Chartered Plc cut jobs across their firms and scale back some of their businesses under new CEOs.
"Having had the success we had in the past three years, we can consolidate that and look at some marginal increase to take advantage of market positions and some new areas of opportunity," Hanning, 47, said in an interview last week. "If there's dislocation in a competitive landscape, there ought to be some increased opportunity."
Chinese Fees
Standard Chartered said earlier this month it will cut 15,000 jobs and restructure or sell $100 billion of assets, after announcing a surprise loss for the third quarter. Deutsche Bank plans to cut 11,000 positions, while Credit Suisse Group AG said it would trim as many as 5,600 jobs. Barclays Plc has also cut investment-banking jobs.
Among the bankers hired recently from European competitors are UBS's managing director for oil and gas coverage in Asia, Ben Yang; and Rubin Chen, the managing director for real estate, leisure and lodging coverage for Hong Kong and China, Hanning said. Yang joined from Standard Chartered and Chen had earlier worked for BNP Paribas SA, before leaving banking.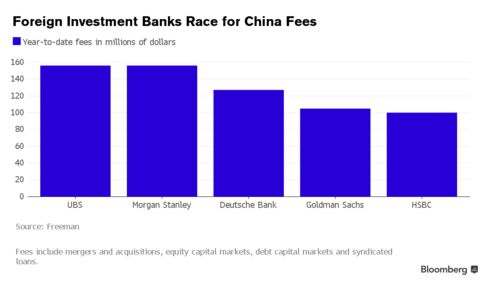 UBS's investment banking fees from Chinese companies have risen to about half of the Asia-Pacific total this year, from 29 percent in 2014, reflecting strong growth in the China business and fewer deals elsewhere in the region, Hanning said. He declined to provide dollar figures, though he said the bank's fee pool from China would become "more material" in the next five years, growing faster than any other country in the region.
Previous Cutbacks
Total investment banking fees from Chinese companies have fallen 11 percent to $5.3 billion so far this year compared with the same period of 2014, according to New York-based research firm Freeman. UBS was paid $156 million by Chinese firms, up from $132 million last year, ranking it seventh among all investment banks and first among international peers, according to Freeman. Six Chinese firms led the field, headed by Citic Securities Co.
UBS's hiring plans, while modest, bring to an end a period during which the bank was hesitant about expanding its workforce in the region so soon after the record losses and large layoffs announced during the financial crisis. The cutbacks in UBS's global investment bank were especially severe, with the company largely exiting the fixed-income trading business in 2012 with the loss of 10,000 jobs.
Bright Spot
Since then, the Asia-Pacific region has emerged as a bright spot for the investment bank, with pretax operating profit in the region rising 50 percent to about 900 million Swiss francs ($897 million) in the first nine months of this year, according to the firm's latest earnings report. The region produced close to half the pretax profit of the global investment bank during the same period, and generated more earnings in Asia-Pacific than did wealth management, UBS's traditional strength.
"We have a strong brand and clients value it, but to maintain our position we need to continue investing in the franchise both from a talent and technology perspective," Andrea Orcel, global head of UBS's investment bank, said in an e-mail. "I would like to see more senior bankers and senior salesmen on the platform."
For the Asia-Pacific region as a whole, UBS ranks sixth among investment banks this year with $433 million of fees, according to Freeman. Morgan Stanley is first with $690 million, followed by Goldman Sachs Group Inc. at $555 million, Freeman estimates. Excluding Japan, UBS ranks second with $402 million of fees, just $5 million less than Goldman Sachs, which is the top fees earner year-to-date, Freeman estimates.
Other recent hires include Salman Baharuddin, executive director for Indonesia coverage, and Katherine Fang, who will start in January as managing director for China coverage, Hanning said.
Before it's here, it's on the Bloomberg Terminal.
LEARN MORE