U.S. Navy, PLA Plan Exercise as South China Sea Gets Less Focus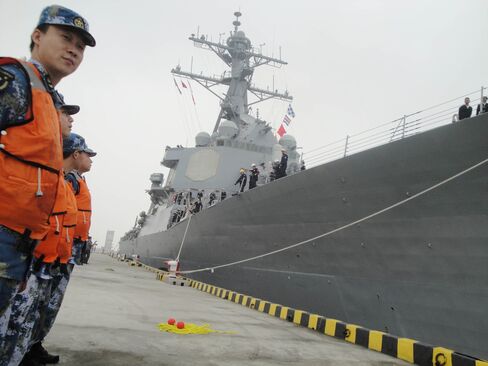 Naval relationship remains `cordial,' Stethem commander says

USS Stethem visit planned before last month's Lassen operation
The U.S. navy will participate in an exercise with a People's Liberation Army vessel during its visit to China as increased tensions in the disputed South China Sea haven't set back a "cordial" relationship, an American naval commander said.
"Sometimes countries may have some disagreements, yet our navies are able to operate safely at sea," Harry Marsh, commanding officer of the USS Stethem, the first navy ship to dock in China since last month's freedom of navigation patrols by a U.S. warship, said during a visit to the port of Shanghai on Monday. "We have a very good relationship with the Chinese navy at sea. It's a cordial relationship."
Tensions between the U.S. and China rose last month after the U.S. conducted a freedom of navigation operation by sailing the USS Lassen, an Arleigh Burke-class destroyer like the Stethem, within 12 nautical miles of an island China has built on a previously semi-submerged reef in the Spratly islands. The U.S. was effectively challenging China's claim to more than 80 percent of the South China Sea based on a nine-dash line drawn on a 1940s map lodged informally with the United Nations in 2009.
http://www.bloomberg.com/graphics/2015-south-china-sea/
"Freedom of navigation operations are things that we do routinely all over the world to enforce the rights and lawfulness of our international air and seas," said Marsh. "Although we don't talk specifically about future operations we do freedom of navigation operations nearly every single day."
Joint Exercise
The Stethem's visit to China had been planned before the USS Lassen's patrol in October, Marsh said.
The exercise with the PLA vessel would consist of a simulated rescue of a swimmer in the water and the navies would use the protocols agreed under the Code for Unplanned Encounters at Sea, known as CUES, he said.
"We utilize CUES every time when we operate with them when we encounter them at sea," Marsh said. "This is not unusual. Just better practice as we move forward."
Admiral Harry Harris, the U.S.'s Pacific Fleet commander, said in Beijing earlier this month that the U.S. would to continue to patrol in waters claimed by China in the South China Sea. Naval officers would also have candid and personal conversations with Chinese military commanders, Harris said, citing recent port visits by Chinese naval vessels in Florida and California.
The freedom of navigation operation was intended to prevent the erosion of international law and shouldn't be construed as a threat to any country, Harris said. The South China Sea won't be an exception to the U.S. military's policy of operating wherever the law allows.
China has now reclaimed 2,900 acres of land to build islands in the Spratly archipelago, according to the Pentagon, and is constructing as many as three airstrips there.
— With assistance by David Tweed, and Gregory Turk
Before it's here, it's on the Bloomberg Terminal.
LEARN MORE