Morgan Stanley: Hotels Don't Need to Worry About Airbnb as Much as Investors Might Think
Airbnb could prove far more disruptive for online travel agencies.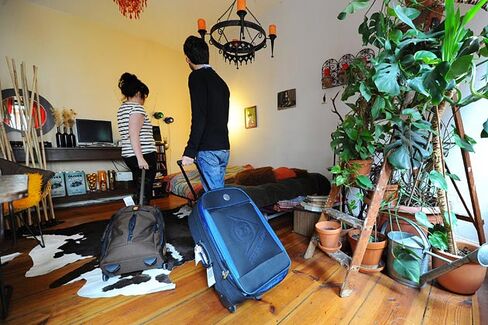 Hilton, Marriott, and other hotel chains can breathe a sigh of relief when it comes to upstart Airbnb, but online travel agencies (OTAs) have cause for concern. At least, that's what the analysts at Morgan Stanley conclude in a new research note.
According to the piece, based on a survey of some 4,000 travelers, such companies as Expedia and Priceline have much more to lose than hotels when it comes to Airbnb. The analysts, led by Brian Nowak, have three reasons they believe this to be the case:
1. Airbnb is geared more toward leisure than business travel
Morgan Stanley figures that Airbnb is still primarily used for leisure trips, putting it in more direct competition with OTAs than hotels, which get a significant chunk of their bookings from business travelers. According to findings from its survey, only 42 percent of Airbnb customers are eschewing traditional hotels, and the vast majority of Airbnb guests stay three to five nights.
2. Airbnb also attracts customers from nonhotel categories
It's not just hotel customers who use Airbnb, however. Some 36 percent of the company's customers are switching from bed and breakfasts, while 31 percent are using Airbnb instead of staying with friends and family. The chart below shows a breakdown of exactly what type of accommodations Airbnb has replaced or is likely to replace over the next 12 months, according to survey responses.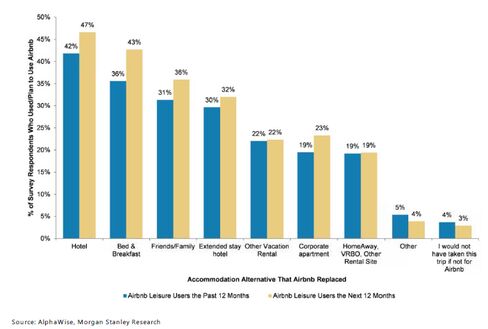 3. Airbnb cannibalizing hotel demand hurts the travel agencies more than the hotels
If Airbnb does begin to hurt hotel demand, Morgan Stanley takes the view that the hotels would start working directly with the company, which would then hurt OTAs more than the hotels. In fact, there's quite a big difference between what Airbnb charges hosts and what OTAs charge hotels, the bank notes. According to the firm, OTAs currently charge around 12 to 18 percent on transactions, while Airbnb charges 3 percent. Thus, Airbnb could increase the amount it charges and still be a net positive for hotels.
Even if Airbnb offered the hotels a commission rate that is triple its standard rate, it would be positive for hotels, likely leading to lower average customer acquisition costs and giving them more leverage against the OTAs. Suffice to say, this would be a further negative to the OTA industry.
"We think investors overestimate Airbnb's threat to hotels ... but underestimate its threat to OTAs," Morgan Stanley concludes.
Before it's here, it's on the Bloomberg Terminal.
LEARN MORE