Liberty Global to Acquire Cable & Wireless in $5.3 Billion Deal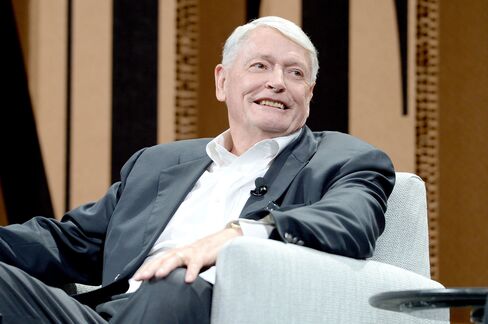 Malone extends Europe cable empire into Caribbean, Panama

Cable & Wireless shares jump about 7 percent in London
John Malone's Liberty Global Plc agreed to buy Cable & Wireless Communications Plc in a cash-and-stock transaction valued at 3.5 billion pounds ($5.3 billion), extending the U.S. billionaire's European cable empire deeper into Latin America.
Cable & Wireless shareholders will receive a 3 pence-a-share one-time dividend at the deal's completion. The transaction values Cable & Wireless at 78.04 pence per share. The stock rose 6.6 percent to 78.60 pence at 8:13 a.m. in London.
The purchase gives Malone a critical mass in Latin America, where he created a tracking stock in July called LiLAC for Liberty Global's assets in Chile and Puerto Rico. Malone, who spent more than $50 billion the past decade amassing cable companies across Europe, looks to do the same in parts of Latin America, and may even spin off that unit in the future, people familiar with the matter said last month, when the companies announced they were in talks.
The acquisition is a "watershed moment" for LiLAC, as it "will add significant scale and management depth to our fast-growing operations in Latin America and the Caribbean," Liberty Global Chief Executive Officer Mike Fries said in the statement. The combined business will serve 10 million video, data, voice and mobile subscribers, he said.
Cable & Wireless, which also owns a network in the Seychelles, received more than half of its $1.75 billion in revenue last year from Panama and the Caribbean. Malone became a shareholder last year when Cable & Wireless bought his cable-TV and Internet provider Columbus International Inc. As part of that deal, Malone and the two co-founders of Columbus were given a 36 percent stake of the combined company.
In a statement, Cable & Wireless called Liberty Global an "outstanding custodian of our business" and said the enlarged company will expand consumer and business-to-business services even faster.
As part of the deal, Liberty Global will take on Cable & Wireless's net debt, which was $2.7 billion as of Sept. 30. The deal represents a multiple of 10.7 times Cable & Wireless's adjusted annual earnings before interest, depreciation, taxes and amortization, after taking into consideration cost synergies.
Tracking Stock
Liberty's businesses are attributed to two tracking stock groups: Liberty Global Group, which comprises the company's European operations; and the LiLAC Group, which comprises Latin American and Caribbean operations.
The acquisition of Cable & Wireless was why Liberty created the LiLAC tracking stock, said Neil Campling, an analyst with Aviate Global in London.
"We have seen Malone build out infrastructure first in Europe to create a distribution platform and now he's adding content deals. He has both in the U.S. already," Campling said. "He is repeating the tried-and-trusted approach in Latin America -- build out the distribution platform and then use the economic leverage of the same to drive financial leverage of content negotiations."
Malone's growing presence in Latin America also dims the hopes for a revival of talks to combine or swap assets in Europe with Vodafone Group Plc. The two sides in September ended their own negotiations. While Malone has said Vodafone's assets in Europe would be attractive, he said the two companies had different corporate cultures that would make a combination difficult.
Malone, 74, has taken on mountains of debt in recent years to expand European operations as a plunge in interest rates allowed Liberty Global to borrow cheaply. Analysts predict he will turn his focus to content assets in Europe, such as U.K. television broadcaster and producer ITV Plc, in which Liberty Global owns 9.9 percent.
Liberty Global, which has been seeking growth from broadband subscriptions as streaming and on-demand TV services edge out traditional TV viewing, has also invested in TV-show production and mobile-phone services as new sources of revenue in Europe.
Shares of Liberty Global fell 2.8 percent to $44.10 at the close Monday in New York, putting the stock down 7 percent this year.
Goldman Sachs Group Inc. and LionTree Advisors LLC assisted Liberty Global. Evercore Partners Inc. and JPMorgan Chase & Co. worked with Cable & Wireless.
(An earlier version of this story corrected the currency in the last paragraph.)
Before it's here, it's on the Bloomberg Terminal.
LEARN MORE