Here's One More Way China Is Trying to Win the Future of Africa
China's advantage over the U.S. in attracting African students continues to grow
Prudentia Pefok, a Zambian nanny in Washington, couldn't afford a college education in the U.S. for her daughter. So she sent her to China.
While not cheap, the $4,000 annual tuition at the Jiangxi University of Traditional Chinese Medicine fits her budget. Pefok says it also allows her 19-year-old daughter to pursue her dream of becoming a surgeon, while discovering the world outside Zambia.
"I was looking at what I can afford," Pefok said in an interview. "I wanted her to experience a different culture and to give her an opportunity to have broader knowledge of the things I didn't have."
Pefok's daughter is a part of the growing body of Africans studying in China, where the cost of living is in most cases cheaper than big cities in the U.S. and Europe. The Chinese government often sweetens the deal with perks like scholarships, living allowances and round-trip airfare.
The number of African students attending Chinese higher-learning institutes jumped an annual average of 35 percent over the past decade, reaching a record 41,677 in 2014, according to Ministry of Education data. That compares with the U.S., where the enrollment of sub-Saharan African students rose to 33,593 in 2014-15 but remains below levels reached before the financial crisis. Britain last year granted the lowest number of student visas to Africans—20,937—in eight years, government data show.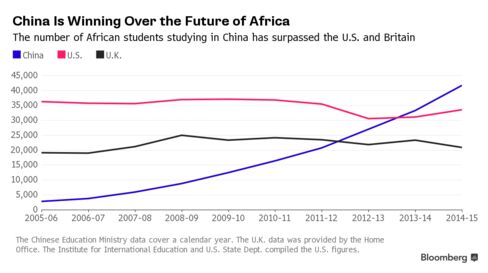 The trend in education coincides with a strengthening of other economic ties between China and Africa. China overtook the U.S. to become Africa's largest trading partner in 2009. There has also been a surge in infrastructure projects in African countries that are financed and built by the Chinese, such as a new multi-billion-dollar railway under construction in Kenya and investments in an Ethiopian shoe factory for brands including Nine West.
It's good optics for a nation that's been accused of plowing natural resources out of Africa while turning a blind eye to corrupt or dictatorial tendencies by certain governments. To an optimist, China is giving back to the continent that provided the raw materials to help power its hardy economic growth. It's also securing future influence, Yun Sun, a non-resident fellow in the Africa Growth Initiative at the Washington-based Brookings Institution, said in a phone interview.
"The Chinese want to mimic the Western model of building a relationship with African elites from an early stage in their studies," she said. "And by providing that education, that means creating the next generation of pro-China elites."
The chances of young Africans landing their dream job with a Chinese degree is another story. Many aren't fluent in Mandarin Chinese, a basic job requirement for most workers in China, while others feel alienated in a society that lacks the same breadth of diversity as Western societies, Sun said. Back home where jobless rates are high, Africans are faced with stiff competition for relatively rare well-paying positions, she said.
"The main problem is the job prospects after they graduate in China," Sun said. "Do they really have the competitive advantage compared to a peer who graduated in the West?"
—With assistance from Haixing Jin in Beijing.
Before it's here, it's on the Bloomberg Terminal.
LEARN MORE