Economic Contractions Are Becoming Awfully Common in Japan
Japan ties with Italy as the worst in the G-7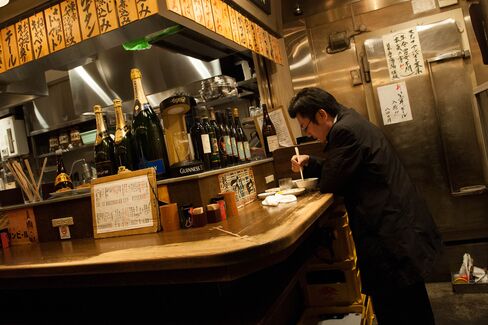 Japan slipped into a recession last quarter without economic events overseas or a natural disaster at home as the culprit.
The nation has had seven recessions in the past 20 years, with two since Prime Minister Shinzo Abe took office in late 2012, and growth has averaged 0.8 percent a quarter. Over the same period, China has grown without pause, overtaking Japan as the world's second-largest economy.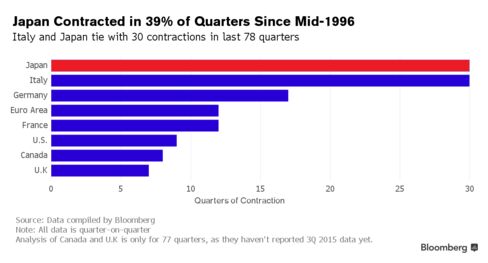 "With the rapidly shrinking working population, the potential growth rate of Japan is very close to zero," Takuji Okubo, an economist at Japan Macro Advisors, wrote in a report after Monday's gross domestic product data was released in Tokyo. "Having zero or moderately negative growth is no longer a big deal for Japan."
The latest contraction -- 0.8 percent in the three months ended Sept. 30 -- followed a 0.7 percent drop the previous quarter, meets the common definition of a recession. An increase in Japan's sales tax precipitated a recession last year, which came after slumps in 2012 and 2011.
This time around the weakness was driven by a pullback in business spending, and the decisions of many companies to draw down inventory in warehouses rather than produce more goods.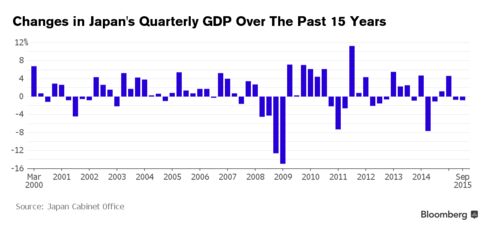 Hiroshi Shiraishi, an economist at BNP Paribas SA in Tokyo, said contractions have become so frequent that you need to look deeper to find out what's happening.
He said it would be a mistake to equate the latest recession with the idea that Japan might be turning back to deflation. Shiraishi said it's also important to look at the very tight labor market, and not just GDP, when you consider price trends.
The central bank estimated Japan's potential growth rate at "around 0.5 percent or lower," in a report last month. This compares with about 2 percent in the U.S., according to the International Monetary Fund.
Before it's here, it's on the Bloomberg Terminal.
LEARN MORE