Global stocks dropped as investors sought the safety of haven assets such as U.S. Treasuries and European government bonds after Friday's terror attacks in Paris. The MSCI All Country World Index is mired in its longest losing stretch since August.
Any sharp movements may be brief, judging by the last 15 years of terror incidents around the world . Following the 9/11 attacks in New York in 2001, the Standard & Poor's 500 sank 12 percent in in five days, but recovered within a month. Similar swings took place after the Bali nightclub bombings in 2002, the Madrid train bombings in 2004 and the London attacks in 2005.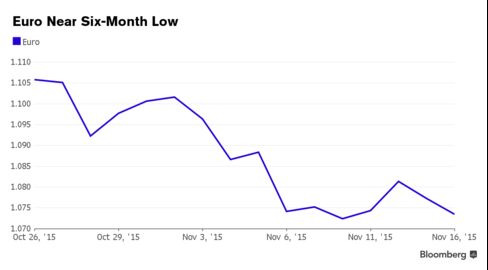 The euro fell near its lowest level since April against the dollar after Europe's worst terror attack in a decade, and investors are assessing the potential impact on the region's already fragile recovery. The European Central Bank had been considering adding more stimulus in December, and the euro is down 5 percent since Oct. 22, when President Mario Draghi signaled further easing. Among the haven currencies today are the Japanese yen, the U.S. dollar and the Swiss franc.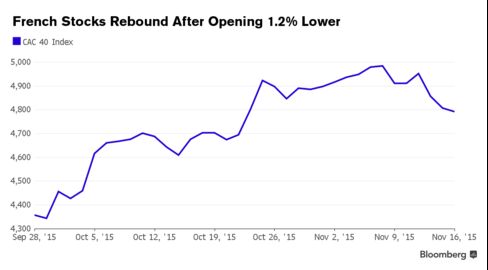 France's CAC 40 joined its fellow European benchmark indexes in falling at the open on Monday, mirroring moves in Asian equity markets. Still, the gauge has rebounded 10 percent from a nine-month low in September. The worst performing industry group in Europe today is Travel & Leisure on concern Friday's attacks will deter visitors to France, the world's most-popular tourist destination, and sap consumer spending. Air-France KLM sunk as much as 7 percent. Accor, Europe's biggest hotel operator, dropped as much as 9 percent.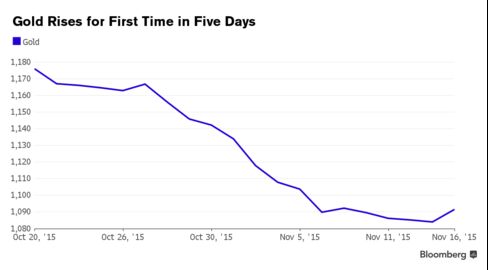 Gold's traditional appeal as a haven is lifting the precious metal from its lowest level in more than five years. The commodity has been battered by expectations the Federal Reserve will raise U.S. interest rates next month, and it's having its worst run since August. Analysts warn today's bounce might not be durable, and gold may be heading to its longest losing stretch since 2000.
Mark Barton is a presenter on Bloomberg TV. Follow him on Twitter @markbartontv
Before it's here, it's on the Bloomberg Terminal.
LEARN MORE