BMW Invests $417 Million in South Africa With Switch to X3
New model to replace production of 3-Series at Rosslyn plant

X3 to be sold locally and exported to markets including Africa
BMW AG will invest more than 6 billion rand ($417 million) in the carmaker's South African operations to start production of the newest model of its X3 sport-utility vehicle.
The X3 will replace the assembly of the German company's 3-Series sedan at the Rosslyn plant north of Pretoria, the automaker said in a statement on Monday. It will be the first time the SUV has been produced outside the U.S., and the model will be sold locally and exported, including to other African countries, according to BMW South Africa Managing Director Tim Abbott.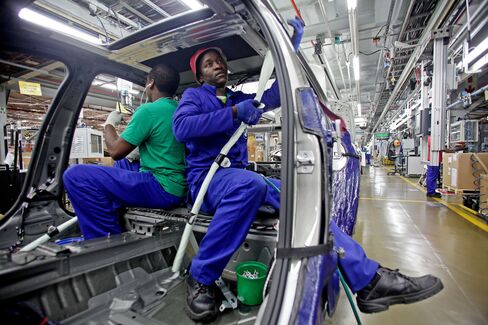 BMW's South Carolina plant, which produces all X models, will be at full capacity in 2016, Abbott said. The company wants to make sure production meets demand, which it expects to grow to be "substantial" in Africa, he said. Carmakers are expanding in South Africa even as economic growth slows and after strikes forced production halts in the last two years.
"28 percent of all the cars we sell around the world are X models, virtually one in three," Abbott said in a phone interview on Monday. "We see the X3 as being, long-term, a high-demand vehicle in countries like Nigeria or Kenya or Tanzania."
South Africa's automotive-incentive program has attracted companies such as BMW, Ford Motor Co. and Volkswagen AG to set up and invest in factories in the country. The government's statement this month that support will be extended beyond 2020 "was very important to us," Abbott said.
Production Rising
The number of vehicles produced in Africa's most industrialized economy is projected to rise to 622,000 this year, according to the National Association of Automobile Manufacturers of South Africa. The percentage of car exports will probably rise to 68 percent this year, the body said, compared with 55 percent in 2014.
BMW will spend more than 3 billion rand on the Rosslyn factory, plus an additional 3 billion rand on suppliers, startup costs and training. Production of the 3-Series will continue at Rosslyn until the end of the current model's lifecycle, after which the switch will be made to building the X3, Abbott said, without providing a timeline.
The automaker will continue to produce X3s at its South Carolina plant, which is also earmarked to build the planned X7 model. While the company hasn't announced projected production volumes for the X3 from Rosslyn, the additional potential markets in Africa will help prospects, Abbott said.
"A lot depends really on the success of X3 worldwide," Abbott said. "Obviously it's not our intention to go backward here, we want to be a more successful plant in terms of volume."
BMW's Rosslyn facility was the company's first foreign plant when it was established in 1973. The factory is expected to produce about 70,000 3-Series vehicles this year and produced its one-millionth vehicle in February.
Before it's here, it's on the Bloomberg Terminal.
LEARN MORE