The Turkish Wage Promise Putting Bond-Market Investors on Edge
Pledge to raise mimimum wage by 30% seen stoking inflation

Deteriorating outlook may dent appeal of local bonds
Bond investors are coming to terms with a campaign promise that threatens to make them collateral damage of the victory that swept Turkey's ruling party back into power.
The AK Party says it will follow through on a pledge to raise the nation's minimum wage by 30 percent, potentially stoking above-target inflation and curtailing the central bank's ability to cushion the economy with lower interest rates. The outlook may dent the appeal of Turkish local-currency bonds that have handed investors 11 percent in dollar terms this quarter, gains that extended some ground since the Nov. 1 election.
"The plan to hike the minimum wage next year would not only increase upside risks on inflation, but also lead to a jump in unit labor costs," said Erkin Isik, a strategist at Turk Ekonomi Bankasi AS, who is keeping his call to stay underweight on Turkish bonds. "A further decline in bond yields would require inflation expectations to fall, which seems unlikely for now."
By boosting the spending power of Turks, the wage outlook would add pressure to inflation expectations that climbed to the steepest level this year in October. It's also raising questions on whether the AK Party will keep shifting toward a more populist approach at the expense of adopting policies to improve competitiveness and stimulate growth from levels that are below the 10-year average.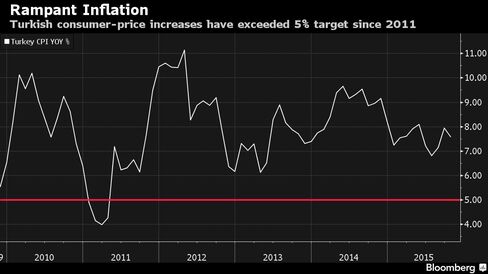 During its campaign, the AK Party promised to raise salaries for the country's lowest wage earners to 1,300 liras ($452) a month to help lure back votes from opposition parties after an inconclusive election in June. The main opposition group pledged to increase the minimum wage by 50 percent.
Acting Finance Minister Mehmet Simsek said Nov. 6 that most of the financial burden involved in boosting the minimum wage will fall on companies, not the government. On Thursday, acting Economy Minister Nihat Zeybekci said the Treasury may share the financing burden. Turkey has yet to appoint its new cabinet.
How the costs are spread is important because if employers are forced to shoulder them, it becomes more likely that they will pass price increases onto consumers. Turkish business asked the government to share part of the 16 billion-lira price tag associated with the plan next year, Hurriyet newspaper reported Nov. 11, citing Ibrahim Caglar, the head of the Istanbul Chamber of Commerce.
"The minimum wage increase is to be expected to push inflation higher so we expect the bonds would trade lower," said Ogeday Topcular, a money manager who helps oversee $300 million in fixed-income assets at Ram Capital SA in Geneva, who is looking at the 10.5 percent area as an entry point to buy two-year notes. "There are a lot of moving parts. Minimum wage is only one."
Two-year yields were 10.25 percent versus 9.86 percent for 10-year securities. Projections for steeper consumer-price increases tend to make investors demand higher yields to buy longer-dated bonds as inflation erodes the value of their holdings.
The lira fell 0.1 percent to 2.8668 per dollar at 5:33 p.m. in Istanbul, trimming its gains this week to 1.8, the most among 24 emerging markets tracked by Bloomberg.
Longer Bonds
Turkey's expected inflation rate for the next 12 months rose to 7.34 percent at the end of October from as low as 6.7 percent in February, according to a monthly survey of businessmen and economists conducted by the central bank. The monetary authority's target is 5 percent.
Not everyone is concerned Turkey's inflation will immediately accelerate. Tatha Ghose, a senior emerging-markets economist at Commerzbank AG in London, projects the rate will drop in the first half before rising toward 8 percent by the end of 2016.
Yields on longer-dated Turkish debt are likely to climb toward 11 percent as the Fed tightens policy, while the rate on shorter-dated notes will fall, according to Commerzbank, potentially bringing an end to the current inverted yield curve.
Ozlem Derici, economist at Deniz Yatirim in Istanbul, plans to revise upward her 7.4 percent 2016 inflation forecast because the implications of the new salary floor "could be exponential since workers above minimum wage could also demand higher wages and producers may need to increase the price of their products."
Pioneer Investment Management Ltd. money manager Hakan Aksoy in London said he would find the 10-year yield attractive if it climbs to around 10.5 percent due to the uptrend in inflation and its relative value in global markets. While bonds have gained this quarter, they've lost investors 19 percent in dollar terms in 2015 compared with a 1.7 percent decline in a Bloomberg gauge of global emerging-market securities.
"If the Fed rates and consequently U.S. Treasury rates go even higher, we could see more steepening with pressure coming from local inflation," he said.
Before it's here, it's on the Bloomberg Terminal.
LEARN MORE